Recorded ECHO Series Address Hepatitis C, A Risk Factor for Liver Cancer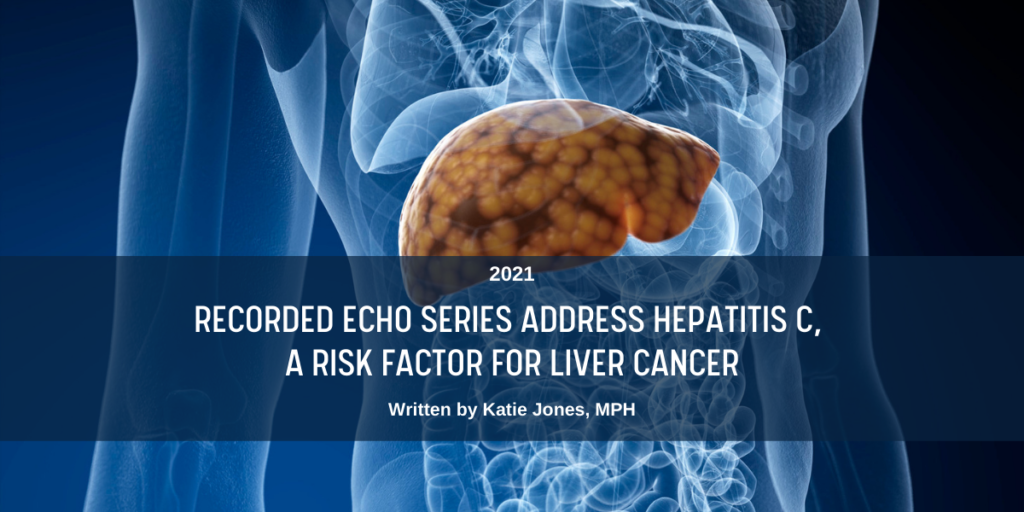 Written by Katie Jones, MPH
The Iowa Department of Public has partnered with the Iowa Primary Care Association and Extension for Community Healthcare Outcomes (ECHO) in a demonstration project for the Centers for Disease Control and Prevention that aims to prevent liver cancer deaths. The project is targeted at promoting vaccination and screening among opioid users, a high-risk group for hepatitis B and hepatitis C infections. As World Hepatitis Day has just taken place on July 28, this is a great time for Iowa healthcare professionals to learn more about hepatitis B, hepatitis C, and liver cancer among opioid users.
About ECHO
ECHO is a movement to de-monopolize knowledge and amplify local capacity to provide best practice care for underserved people all over the world. The Iowa Primary Care Association coordinates two ECHOs – one focused on hepatitis C and one on behavioral health. Both of these ECHO sessions relate to cancer prevention and control. That's because hepatitis C can lead to liver cancer. In addition, many of the behavioral health ECHO sessions discuss hepatitis C (resulting from opioid use) or other cancer risk factors, such as alcohol use.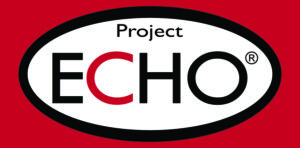 How to Access the Recorded ECHO Series
These ECHO session telementoring opportunities are open to a wide array of healthcare staff across the state of Iowa and across practice entities – providers, mid-levels, behavioral health staff, Community Health Workers, counselors, pharmacists, etc. Participants are encouraged to take the pre- and post-assessment and CMEs and CEUs are available. The recordings of the behavioral health (BH) and hepatitis C (HCV) ECHO series are available on the Des Moines University (DMU) website here (use the topic drop down to select BH ECHO or HCV ECHO to have the results show only recordings from those ECHOs).
Access the Recorded ECHO Series
The following is a list of recorded behavioral health and hepatitis C ECHO sessions on the DMU website that specifically describe the connection between increasing rates of opioid use/viral hepatitis and liver cancer. Furthermore, healthcare providers and anyone else who is interested are encouraged to view these sessions and take the pre- and post-assessment.
2/12 BH ECHO: Substance Use in Iowa: Opioids – Monica Wilke-Brown, IDPH
4/9 BH ECHO: Care Engagement with Patients Living with Substance Use Disorder and Complex Conditions: Mental Illness, Substance Abuse and Trauma Recovery – Mark Hillenbrand, LISW, RCSW, Registrar – Chief Executive Officer of the British Columbia College of Social Workers, Vancouver, Canada
4/20 HCV ECHO: HIV and HCV Co-Infection Overview – Megan Srinivas, MD, Infectious Disease, University of North Carolina Medical Center
5/14 BH ECHO: Harm Reduction and Person-Centered Language – Liz Sweet, Systems Integration Coordinator – Bureau of HIV, STD, and Hepatitis, Iowa Department of Public Health
5/18 HCV ECHO: How Do We Provide HCV Care for Individuals Experiencing Homelessness? – Marguerite Beiser, ANP-BC, Boston Health Care for the Homeless Program
The Growth of Opioid Use, Hepatitis B and Hepatitis C, and Liver Cancer
Opioid use has led to an increase in the number of people who inject drugs in the U.S., which in turn increases risk of blood-borne infections, including hepatitis C and hepatitis B virus infection through the use of shared equipment.
In the U.S., rates of opioid injection and acute hepatitis C infections increased most dramatically from 2004 to 2014 among younger Americans (ages 18-39).1
Among people aged 18-29, hepatitis C increased by 400% and admission for opioid injection by 622%.
Among people aged 30-39, hepatitis C increased by 325% and admission for opioid injection by 83%.
Likewise, liver cancer incidence and mortality is also on the rise. In Iowa, the rate of new liver and intrahepatic bile duct cancer cases has roughly tripled from 2 cases per 100,000 people in 1975-1979 to 6 cases per 100,000 population in 2010-2014.3
Liver Cancer Prevention & Screening
In the U.S., 66% of people infected with hepatitis B and 39% of people infected with hepatitis C were unaware of their infection.4,5 Vaccination and screening for viral hepatitis are key to prevention and early detection of liver cancer.
Because of this, the CDC recommends hepatitis C screening at least once in a lifetime for all adults aged 18 years and older, except in settings where the prevalence of hepatitis C infection (HCV RNA‑positivity) is less than 0.1%. The full CDC recommendation is here.
Healthcare providers can help prevent liver cancer by:6
Identifying individuals recommended for hepatitis B vaccination.
Administering vaccination as part of routine services.
Identifying patients who are at high risk for hepatitis B or hepatitis C infections.
Testing according to age- and risk-based guidelines.
Assessing for other risk factors for liver cancer, including:

Heavy alcohol use
Obesity
Type II diabetes

Ensuring those infected with hepatitis B or hepatitis C receive appropriate care and treatment.
Educating patients who are at high risk for hepatitis B or hepatitis C infections about their risk for liver cancer.
Preventing Hepatitis C Transmission in Persons Who Inject Drugs
Strategies for preventing hepatitis C transmission in persons who inject drugs include:
Comprehensive harm reduction services such as:7

Providing sterile needles, syringes, and other injection equipment
Safe disposal of needles and syringes (i.e., biohazard containers)
Hepatitis testing and linkage to care and treatment
Referrals to medical, mental health, and social services
Education about overdose prevention and safe injection practices

Syringe services programs are associated with an approximately 50% reduction in new HIV and hepatitis C infections.8
When syringe service programs are combined with medication-assisted treatment of opioid dependence, HIV and hepatitis C transmission is reduced by more than two-thirds.9,10
---
Works cited:
CDC Press Release: December 21, 2017. Increase in hepatitis C infections linked to worsening opioid crisis. https://www.cdc.gov/nchhstp/newsroom/2017/hepatitis-c-and-opioid-injection-press-release.html
Momin, Behnoosh. (2019). A Call for Action: Responding to the Increasing Incidence of Liver Cancer in the United States. https://blogs.cdc.gov/cancer/2019/05/09/a-call-for-action-responding-to-the-increasing-incidence-of-liver-cancer-in-the-united-states/
University of Iowa College of Public Health. (2017). Cancer in Iowa. https://shri.public-health.uiowa.edu/wp-content/uploads/2016/12/Cancer_in_Iowa_2017.pdf
Kim HS, et al. Awareness of chronic viral hepatitis in the United States: An update from National Health and Nutrition Examination Survey. J Viral Hepal. 2019 Jan 1.
Ryerson AB, et al. Vital Signs: Newly reported acute and chronic hepatitis C cases – United States, 2009-2018. MMWR Morb Mortal Wkly Rep. 2020 Apr 10;69(14):399-404. doi: 10.15585/mmwr.mm6914a2
George Washington University. (2018). Viral Hepatitis & Liver Cancer Prevention Profile. Retrieved from https://www.cdc.gov/hepatitis/policy/pdfs/FactSheet-Hepatitis-LiverCancer.pdf.
Centers for Disease Control and Prevention. (2017). Reducing Harms from Injection Drug Use & Opioid Use Disorder with Syringe Services Programs. https://www.cdc.gov/hiv/pdf/risk/cdchiv-fs-syringe-services.pdf.
Aspinall, E. J., et al. (2014). Are needle and syringe programmes associated with a reduction in HIV transmission among people who inject drugs: a systematic review and meta-analysis. Int J Epidemiol, 43(1), 235- 248. doi:10.1093/ije/dyt243.
Platt L, et al. Needle syringe programmes and opioid substitution therapy for preventing hepatitis C transmission in people who inject drugs. Cochrane Database of Systematic Reviews 2017, Issue 9. Art. No.: CD012021. DOI: 10.1002/14651858.CD012021.pub2.
Fernandes, R. M., et al. (2017). Effectiveness of needle and syringe programmes in people who inject drugs – An overview of systematic reviews. BMC Public Health, 17(1), 309. doi:10.1186/s12889-017-4210-2.