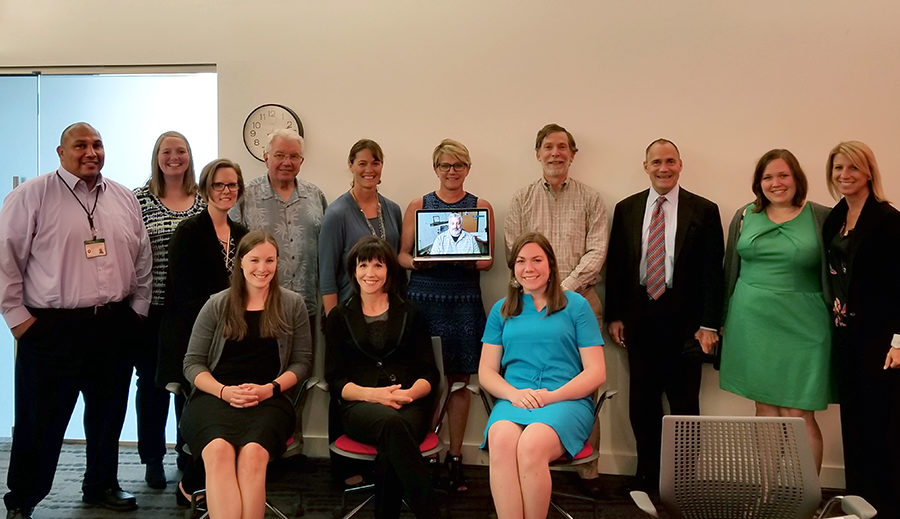 MEET OUR BOARD
The Iowa Cancer Consortium is governed by a board of directors which sets the direction for the organization, provides governance and approves all grant awards.
| 2020 Board of Directors | Term Expiration |
| --- | --- |
| George Weiner, MD, Iowa City, President | 6/30/2020 |
| Richard Deming, MD, Des Moines, Vice-President | 6/30/2020 |
| Renee Stribling, CMA, Treasurer | 6/30/2021 |
| Gabbi DeWitt, Waterloo, Secretary | 6/30/2021 |
| Mary Charlton, PhD, Iowa City | 6/30/2020 |
| Georgia Hodge, Waterloo | 6/30/2021 |
| Cindy Fiester, BSN, Cedar Rapids | 6/30/2020 |
| Tina Devery, MHA, Iowa City | 6/30/2020 |
| Rudy Papakee, MHA, Tama | 6/30/2021 |
| Vincent Reid, MD, Cedar Rapids | 6/30/2020 |
| Kevin Kelly, PhD, Iowa City | 6/30/2021 |
| Matt McGarvey, MPA, Des Moines | 6/30/2021 |
George Weiner, MD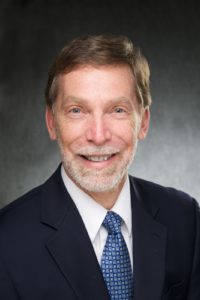 Dr. George Weiner is President of the Iowa Cancer Consortium Board of Directors. Dr. Weiner has served as the Director of the University of Iowa Holden Comprehensive Cancer Center (HCCC), a National Cancer Institute (NCI) designated Comprehensive Cancer Center, since 2000. He received his B.A. from Johns Hopkins University, his MD from The Ohio State University, his Internal Medicine training at the Medical College of Ohio and fellowship training in Hematology, Oncology and Immunology at the University of Michigan. Dr. Weiner has served in a number of leadership positions including chairing the NCI committee that provides peer review of cancer centers and as President of the Association of American Cancer Institutes.  He currently chairs the External Advisory Committees for 6 other NCI-designated cancer centers. He is also chair of the Society for the Immunotherapy of Cancer Policy Committee and is a member of the National Cancer Policy Forum.
Richard Deming, MD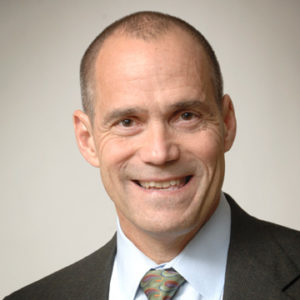 Dr. Richard Deming is the Vice-President of the Iowa Cancer Consortium Board of Directors. Dr. Deming is the Medical Director of Mercy Cancer Center in Des Moines, Iowa and a founder of Above + Beyond Cancer. He received a bachelor's degree at South Dakota State University and his medical degree at Creighton University. Dr. Deming is known in the community for the compassionate care he provides cancer patients and their families. He is involved in many national, state and community organizations and has received many awards for his work including the Lane Adams Award by the American Cancer Society for excellence and compassion in patient care and the Iowa Cancer Champion Award for his tireless efforts in the field of advocacy. He is dedicated to the principles of human dignity, social justice and compassion. His greatest ambition is to encourage others to pursue lives of meaning, purpose, passion and compassion.
Renee Stribling, CMA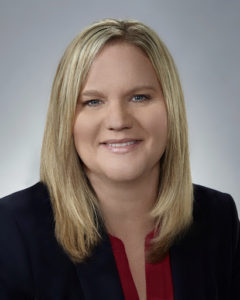 Renee Stribling is the Treasurer for the Iowa Cancer Consortium Board of Directors. She also serves as the Controller at the Eastern Iowa Health Center (EIHC) in Cedar Rapids, a federally qualified health center serving families in the community regardless of their ability to pay. Her duties include reporting and account management for several federal, state and local grants. Renee attended Mount Mercy University, majoring in Accounting and earn the Certified Management Accountant designation. She lost her father to cancer and has seen several friends battle cancer, and understands the importance of the work the Consortium does.
Gabbi DeWitt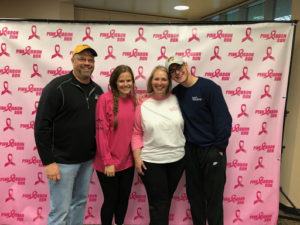 Gabbi DeWitt is the Secretary for the Iowa Cancer Consortium Board of Directors. Gabbi has been a Health Educator with the Black Hawk County Health Department in Waterloo, IA for 19 years. Her primary focus is cancer prevention and screening, working primarily in breast, cervical and colon cancer programming. She believes in wearing her health equity 'hat' at all times, removing barriers and increasing access to care is the most important part of her job. She is a native to Black Hawk County and has witnessed first-hand how building strong partner relationships can increase cancer control efforts in a community. Gabbi is married with 2 kids, ages 20 and 17. She attended the University of Northern Iowa.
Mary Charlton, PhD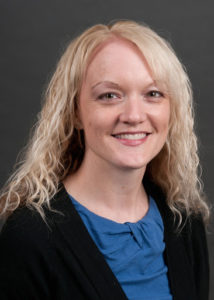 Mary Charlton is an epidemiologist and health services researcher at the University of Iowa College of Public Health and the Iowa Cancer Registry. During her tenure, she has conducted numerous studies of risk factors, health care utilization, practice pattern variation and outcomes related to cancer. Dr. Charlton is involved in the development of the annual Cancer in Iowa document to report on the estimated number of new cancer cases and cancer deaths in Iowa, and to educate Iowans about the trends and public health issues related to cancer prevention, diagnosis and treatment.
Georgia Hodge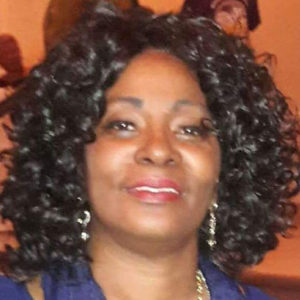 Georgia Hodge is a breast cancer survivor who has been a member of the Iowa Cancer Consortium since 2009. After her breast cancer diagnosis and serving as a caretaker for her mother who died from pancreatic cancer, Georgia has made it her mission to educate, support and advocate for her community. She has been active in a variety of grassroots organizations serving the Cedar Valley and Iowa, including Splash of Color, Black Hawk County Advisory Board, Body & Soul Program, F.R.I.E.N.D.S., and the Breast Health Initiative.
Cindy Fiester, BSN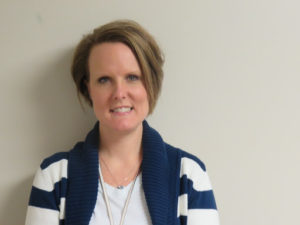 Cindy Fiester is a Registered Nurse (RN) at Linn County Public Health in Cedar Rapids, Iowa. Cindy led the effort to develop and launch My Care Community, Partners for Better Care © through Linn County's State Innovation Model grant funding, allowing the delivery of Community Care Coordination through a large collaborative network of social service and health providers across Linn County. She has a passion for working in chronic condition management, social determinants of health, cancer prevention, early detection and treatment. Cindy holds a BSN (2010) from Mount Mercy University and a BA (1999) from Iowa State University with a double major in Journalism and Mass Communication & Sociology. She is currently pursuing her Masters of Science in Nursing through Mount Mercy University. She lives in Cedar Rapids, with her husband John and two daughters, Natalie (12) and Evelyn (6).
Tina Devery, MHA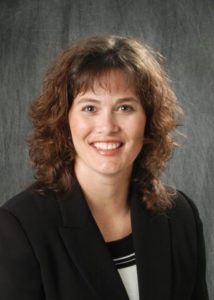 Tina Devery is administrator of Holden Comprehensive Cancer Center (HCCC) in Iowa City, Iowa.  She received a bachelor's degree in business with a concentration in finance and her masters in hospital and health administration from the University of Iowa. In Iowa, Tina has been a champion of cancer control across the prevention, screening, treatment and survivorship continuum.  She served as the former executive director of the Iowa Cancer Consortium as the organization evolved to a 501c3 non-profit and fostered new organizational connections and growth as a member partner and now a board member. She is passionate about working across organizational boundaries and harnessing the amazing energy of our ICC members to address the needs of Iowans. Tina lives in Iowa City and can often be spotted at a youth sporting event or orchestra concert cheering on her 3 kids, ages 13, 12 and 9.
Rudy Papakee, MHA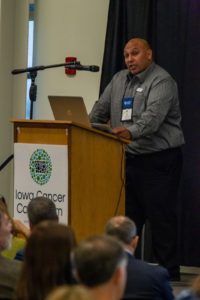 Rudy Papakee is the director of the Meskwaki Tribal Health Center where he oversees an ambulatory medical facility on the Settlement of the only federally recognized tribe in Iowa, the Sac & Fox Tribe of the Mississippi in Iowa. An enrolled member of the Tribe, he was challenged with the question of 'Do you want to work at the Post the rest of your life?' (The Post is a local gas station) and soon began his plunge into the realm of health. He earned his undergrad degree from Iowa State University in Community and Public Health and found his true calling as a healthcare administrator after receiving his Masters in Healthcare Administration (MHA) from Des Moines University. During his tenure, he has expanded clinical services to meet the health care needs of the Meskwaki Nation through collaborative agreements and expansion of medical programming, including his favorite – the opening of a new dental clinic in 2013; a first for the community. Rudy resides on the Meskwaki Indian Settlement with his children and enjoys volunteering in various avenues, from free tax preparation for the elderly to coaching soccer for the younger generation.
Vincent Reid, MD, FACS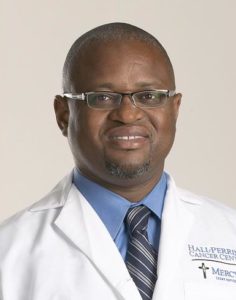 Dr. Vincent Reid is the Medical Director at the Hall-Perrine Cancer Center in Cedar Rapids. Growing up in rural Jamaica, Dr. Reid developed an interest in medicine at an early age, and eventually received his undergraduate degree in Biochemistry at The City College in New York. He completed his medical degree at the University of Cincinnati College of Medicine and internship and residency at the Maimonides Medical Center, Brooklyn, New York. Dr. Reid received specialized accredited fellowship training in head and neck surgical oncology from Memorial Sloan-Kettering Cancer Center in New York. He also holds an appointment as an Associate Professor of Surgery in the Division of Surgical Oncology & Endocrine Surgery at the University of Iowa Hospitals and Clinics.
Kevin Kelly, PhD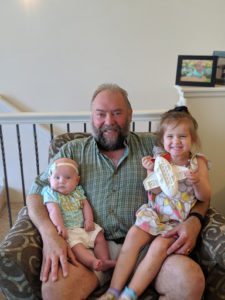 Kevin Kelly is a fourth generation Iowan. He currently serves as the Deputy Director and Director of Evaluation of the Healthier Workforce Center of the Midwest in the College of Public Health and as an Adjunct Associate Professor in the Department of Anthropology at the University of Iowa. By training, he is a biological anthropologist (BA, University of Iowa; MA, PhD, University of Illinois at Urbana-Champaign).  Kevin is a cancer survivor, diagnosed with small cell lymphatic lymphoma and living under the cloud of prostate cancer that took his father and paternal grandfather. His involvement with Iowa Cancer Consortium Board is motivated by hoping to improve the lives of future generations, including his precious granddaughters.
Matt McGarvey, MPA
Matt McGarvey is the executive director of Telligen Community Initiative (TCI), the charitable foundation of Telligen, Inc., a private, nonprofit healthcare intelligence company headquartered in West Des Moines, Iowa. As executive director, Matt leads Telligen's regional health philanthropy efforts and is actively involved in supporting projects and organizations that strive to improve the health of communities in Iowa, Illinois, Oklahoma and Colorado.
INTERESTED IN LEARNING MORE?
We are eager to connect you with information about resources and contacts appropriate to your needs. Drop us a line and we will be in contact shortly.