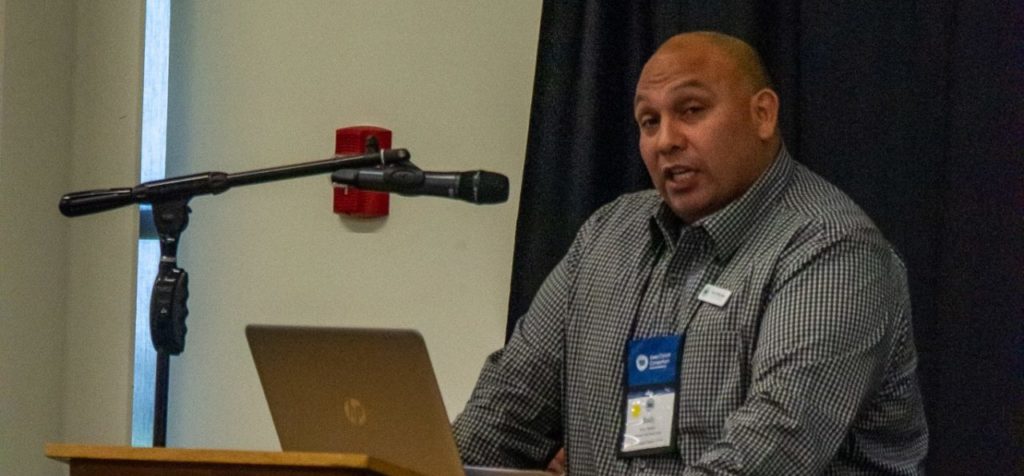 MEET OUR BOARD
The Iowa Cancer Consortium is governed by a board of directors which sets the direction for the organization, provides governance and approves all grant awards.
Board of Directors
Mary Charlton, PhD - President (she/her)

Mary Charlton is a Professor of Epidemiology at the University of Iowa College of Public Health and the Director and Principal Investigator at the Iowa Cancer Registry. During her tenure, she has conducted numerous studies of risk factors, health care utilization, practice pattern variation and outcomes related to cancer. Dr. Charlton is involved in the development of the annual Cancer in Iowa document to report on the estimated number of new cancer cases and cancer deaths in Iowa, and to educate Iowans about the trends and public health issues related to cancer prevention, diagnosis and treatment.
Richard Deming, MD - Vice President (he/him)

Dr. Richard Deming is the Medical Director of Mercy Cancer Center in Des Moines, Iowa and a founder of Above + Beyond Cancer. He received a bachelor's degree at South Dakota State University and his medical degree at Creighton University. Dr. Deming is known in the community for the compassionate care he provides cancer patients and their families. He is involved in many national, state and community organizations and has received many awards for his work including the Lane Adams Award by the American Cancer Society for excellence and compassion in patient care and the Iowa Cancer Champion Award for his tireless efforts in the field of advocacy. He is dedicated to the principles of human dignity, social justice and compassion. His greatest ambition is to encourage others to pursue lives of meaning, purpose, passion and compassion.
George Weiner, MD - Immediate Past President (he/him)

Dr. George Weiner is a Hematologist and the Director Emeritus of the University of Iowa Holden Comprehensive Cancer Center (HCCC), a National Cancer Institute (NCI) designated Comprehensive Cancer Center. He received his B.A. from Johns Hopkins University, his MD from The Ohio State University, his Internal Medicine training at the Medical College of Ohio and fellowship training in Hematology, Oncology and Immunology at the University of Michigan. Dr. Weiner has served in a number of leadership positions including chairing the NCI committee that provides peer review of cancer centers and as President of the Association of American Cancer Institutes. He currently chairs the External Advisory Committees for 6 other NCI-designated cancer centers. He is also chair of the Society for the Immunotherapy of Cancer Policy Committee and is a member of the National Cancer Policy Forum.
Christen Sewell, MHA - Treasurer (she/her)

Christen Sewell is a native to rural Iowa and is currently working as the Director of Public Health for Humboldt County. Prior to that, she was with UnityPoint Health-Fort Dodge for 10 years as the Cancer Center manager. She has experience in both patient care and administration, with a wide range of knowledge from screening and prevention of cancer to supporting cancer survivors and caregivers. She is an active member in the community with cancer awareness and support.

Christen received her Bachelors of Radiation Sciences degree from the University of Iowa and holds certificates in Radiologic Technology and Radiation Therapy. Her Masters in Healthcare Administration was completed through Bellevue University.
Georgia Hodge, CHW - Secretary (she/her)

Georgia Hodge is a breast cancer survivor who has been a member of the Iowa Cancer Consortium since 2009. After her breast cancer diagnosis and serving as a caretaker for her mother who died from pancreatic cancer, Georgia has made it her mission to educate, support and advocate for her community. She has been active in a variety of grassroots organizations serving the Cedar Valley and Iowa, including Splash of Color, Black Hawk County Advisory Board, Body & Soul Program, F.R.I.E.N.D.S., and the Breast Health Initiative.
David Dickens, MD (he/him)

Dr. David Dickens is the Clinical Director of Pediatric Cancer Services at University of Iowa Stead Family Children's Hospital in Iowa City. As a pediatric oncologist for almost 20 years, Dr. Dickens is passionate about cancer prevention behaviors that originate in childhood and adolescence (e.g., sun safety, tobacco use, HPV vaccination, and alcohol use). He believes that addressing psychosocial support, symptom control, and health disparities must all be crucial parts in cancer control initiatives in Iowa.
Cindy Fiester, MSN (she/her)

Cindy Fiester is a Registered Nurse (RN) at Linn County Public Health in Cedar Rapids, Iowa. Cindy led the effort to develop and launch My Care Community, Partners for Better Care© through Linn County's State Innovation Model grant funding, allowing the delivery of Community Care Coordination through a large collaborative network of social service and health providers across Linn County. She has a passion for working in chronic condition management, social determinants of health, cancer prevention, early detection and treatment. Cindy holds an MSN (2020) and BSN (2010) from Mount Mercy University and a BA (1999) from Iowa State University with a double major in Journalism and Mass Communication & Sociology. She lives in Cedar Rapids, with her husband John and two daughters, Natalie and Evelyn.
DeAntony Humm (he/him)

Living in Omaha, Nebraska, DeAntony (Dee) Humm serves as Principal, National Account Executive at Genentech, which is a biotechnology company dedicated to pursuing groundbreaking science to discover and develop medicines for people with serious and life-threatening diseases with a goal of Fostering Belonging, Advancing Inclusive Research and Health Equity and ultimately Transforming Society. Dee graduated from University of Nebraska, has almost 20 years in healthcare across a variety of commercial, leadership and strategic roles. Dee has served on multiple healthcare focused boards in Nebraska to include Tobacco Education Advocacy of the Midlands, National Association of Service Healthcare Executives, Healthy Housing Omaha, ACS CAN Health Equity Council and the American College of Healthcare Executives. Dee is passionate about enabling and advocating for patient access and addressing health equity, has four boys (Julian, Uriah, Makai, and Walker) and is married to Carlee Humm a Nurse Practitioner in EP Cardiology at Nebraska Medicine.
Rudy Papakee, MHA

Rudy Papakee is the director of the Meskwaki Tribal Health Center where he oversees an ambulatory medical facility on the Settlement of the only federally recognized tribe in Iowa, the Sac & Fox Tribe of the Mississippi in Iowa. An enrolled member of the Tribe, he was challenged with the question of 'Do you want to work at the Post the rest of your life?' (The Post is a local gas station) and soon began his plunge into the realm of health. He earned his undergrad degree from Iowa State University in Community and Public Health and found his true calling as a healthcare administrator after receiving his Masters in Healthcare Administration (MHA) from Des Moines University. During his tenure, he has expanded clinical services to meet the health care needs of the Meskwaki Nation through collaborative agreements and expansion of medical programming, including his favorite – the opening of a new dental clinic in 2013; a first for the community. Rudy resides on the Meskwaki Indian Settlement with his children and enjoys volunteering in various avenues, from free tax preparation for the elderly to coaching soccer for the younger generation.
Sneha Phadke, DO, MPH (she/her)

Dr. Sneha Phadke is an associate professor and breast medical oncologist at the University of Iowa Holden Comprehensive Cancer Center. She is also the co-chair of the Research and Clinical Trials Workgroup in the Iowa Cancer Consortium. In addition to patient care, she is the principal investigator for several breast cancer clinical trials at Holden and is involved in outcomes research, projects in outreach and community engagement, and studies aimed at interventions to improve quality of life for patients with cancer.
Lori Pietig, MHA (she/her)

Lori Pietig is the Cancer Services Director at St. Anthony Regional Hospital in Carroll, IA. A consortium member since 2020, she serves as the Rural Cancer Group co-chair and has been involved with many consortium educational series. Her consortium work focuses on networking with other cancer center leaders and highlighting the excellent care that rural healthcare centers can offer. Lori's healthcare career started in radiology in 2004 and is a registered x-ray and CT technologist. Lori received her Master's in Healthcare Administration degree in 2009 with the hope to continue to grow as a healthcare leader in the communities she serves. She lives in Carroll, IA with her husband Cory and their 4 children.
Sara Ternes, MPH (she/her)

Sara Ternes is a graduate student at the University of Iowa College of Public Health, pursuing a PhD in Epidemiology. The focus of her PhD studies is Cancer Epidemiology, in particular, the molecular and genetic epidemiology of cancer and how biomarkers inform diagnosis, treatment and prognostic outcomes of this disease. In addition to her academics, Sara is also a research scientist at a local biotechnology company which focuses on regenerative medicine, protein bioproduction and cancer research. Sara has been an active member of the Iowa Cancer Consortium since January of 2022. She completed her Master of Public Health (MPH) Applied Practice Experience with the Consortium where she was responsible for coordinating a roundtable event for the Research and Clinical Trials Virtual Roundtable series. Sara is passionate about cancer, and she is excited to serve as a member of the Board of Directors and work to advance the important mission of the Iowa Cancer Consortium.
Maria Torres (she/ella)

A native of El Salvador, Maria Torres moved to the United States with her family when she was 10. She currently works as the health equity coordinator for Pottawattamie County Public Health and believes in the importance of diverse representation and lived experiences. Having witnessed her grandmother's struggle with cancer and the lack of resources available in Spanish, she is passionate about helping the Latinx community access information and support. Maria and her 6-year-old son, Axel, live in Council Bluffs.
Sarah Zeidler, FACHE (she/her)

Sarah Zeidler is the Executive Director of Oncology Services at UnityPoint Health- John Stoddard Cancer Center in Des Moines. A Consortium member since 2013, Ms. Zeidler has served as a Policy Committee co-chair since 2016. She enjoys working with other Consortium members to advance cancer control measures across the state and foster collaboration between healthcare providers and advocacy groups. She is honored to be in her second term on the Board of Directors.

Sarah attended the University of Wisconsin- Madison where she received her Bachelor's degree in business and she is a graduate of the Master of Healthcare Administration program at the University of Minnesota. She has been happy to call Des Moines home for the past 12 years, where she lives with her husband and 2 young children.
INTERESTED IN LEARNING MORE?
We are eager to connect you with information about resources and contacts appropriate to your needs. Drop us a line and we will be in contact shortly.