2022 Sun-Safety Community Project
Skin cancer is the most commonly diagnosed cancer in the United States, and rates of skin cancer, including melanoma, the deadliest form, are on the rise in Iowa. In an effort to increase sunscreen use and decrease incidence of sunburns, which can lead to skin cancer, the Iowa Cancer Consortium will distribute approximately 50 gallons of SPF30 sunscreen across Iowa for the summer of 2022!
Applications are due by 5pm CST on Friday, May 6, 2022
Who's eligible?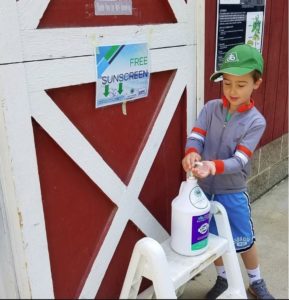 Places and events such as:

Parks and Rec Departments
City Pools
County Fairs
Outdoor Community Events
Day Camps
Child Care Centers
Towns that are stops on the 2022 RAGBRAI course

Awardees must be a member of the Iowa Cancer Consortium or commit to becoming a Consortium member prior to receiving sunscreen, if selected. (More information on Consortium membership can be found here. Reach out to Kelly Rollins at 

[email protected]

 with membership questions.)
A minimum of 100 people must be reached for all one-day events (three or more hours).
What are the requirements if my project is chosen?
A final report with at least three photos documenting the project must be submitted. The Iowa Cancer Consortium reserves the right to use these pictures in publications and marketing materials. Awardees must obtain appropriate consent for all pictures for use by both the grantee organization and the Iowa Cancer Consortium. All pictures are to be submitted electronically in JPEG format with people and places identified.
All materials must contain the following statement: This program is made possible by the Iowa Cancer Consortium and the Iowa Department of Public Health.
When appropriate and space permits, the Consortium logo and website (canceriowa.org) will be included in project materials.
All materials created must go through the following review process: A draft of project materials (printed and electronic materials, agendas, save-the-date, fliers, etc.) must be submitted to Liz Orton at

[email protected]

at least five working days before they are produced. Grantees will receive approval for producing materials via e-mail from Consortium staff.
Who can I contact to learn more?
If you have any questions about the application process, please contact Liz Orton, Outreach Coordinator at the Iowa Cancer Consortium ([email protected]).
How do I apply?
Complete the application and email it to Liz Orton at [email protected] by 5pm CST on Friday, May 6, 2022.
What is the timeline?
April 22, 2022
2021 Sun-Safety Community Project Sunscreen Request announced.
May 6, 2022
(5:00pm CST)
Applications due to

[email protected]

.
May 13, 2022
Recipients announced via email.
May 27, 2022
Project period begins.
September 5, 2022
Project period ends.
September 16, 2022
Final reports are due at the conclusion of the project, with a final deadline of September 16, 2022.