Radon & Rentals: Iowa City First in State to Require Radon Testing & Mitigation in Rental Homes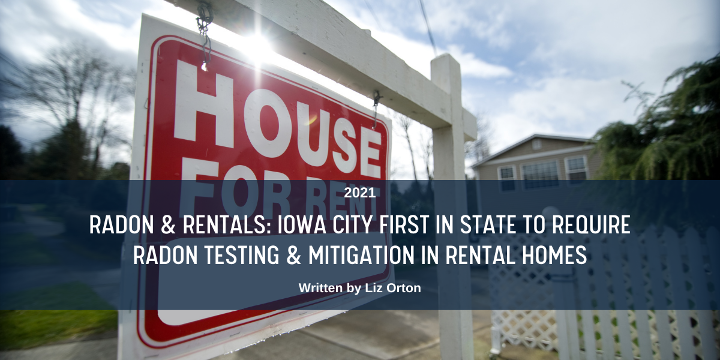 Written by Liz Orton
Delayed a year by the COVID-19 pandemic, Iowa City is ready to enact its new radon testing and mitigation policy for single-family detached and duplex rental properties beginning July 1, 2021. This policy is the first of its kind in Iowa. Stan Laverman, Senior Housing Inspector with the City of Iowa City, hopes that other cities will follow suit.
How did this policy come to be?
According to Laverman, the need for this new radon policy became evident in June 2017. That was when former-Governor Brandstad signed an amendment that restricted cities from limiting rental occupancy in single-family detached and duplex rental homes based on familial or non-familial relationships. For example, a rental house that used to house three college students could now house up to eight. Laverman was concerned that more tenants would be living in basement bedrooms, increasing their exposure to cancer-causing radon gas. (More on the science of radon in a moment.)
Laverman believes this policy takes steps towards both cancer prevention and health equity. "Our goal is to provide safe, affordable housing to everyone," Laverman said.
"When an owner-occupied house is bought and sold in Iowa, the new buyer would insist on a radon test. But we didn't see that in the rental market," Laverman said. "The market wasn't taking care of the issue."
"We saw that rental properties weren't being tested for radon and weren't being mitigated," Laverman explained. "In a neighborhood, you would see that owner-occupied houses had radon mitigation systems installed, whereas rental properties in that same neighborhood didn't. You could see the disparities."
How will the new policy work?
Laverman oversees the annual inspection of Iowa City's 20,000 rental units. Single-family detached houses and duplexes comprise 3,600 of those. These inspections will now require the property owner to show that they've tested for radon. Furthermore, mitigation must be conducted if the radon levels are 4 picocuries per liter (pCi/L) or higher. Testing and mitigation must be performed by third-party specialists.
Originally slated to take effect July of 2020, COVID-19 postponed the implementation by a year. "We feel this is an appropriate time to move forward," said Laverman. It will take two years to complete this cycle of inspections. In the meantime, any new single-family detached rental homes and duplexes must comply immediately.
What is radon?
Radon is the leading cause of lung cancer among non-smokers, according to the United States Environmental Protection Agency (EPA). It is an invisible, tasteless, odorless, radioactive gas that is naturally produced by radium in the soil. Radon becomes harmful when it becomes trapped and concentrated in the air. For example, when it leaks into a basement through a crack in the foundation or a space around a pipe.
Although radon testing is recommended in Iowa, it is not required in the Iowa Housing Code.
Why does radon matter in Iowa?
Lung cancer caused by radon exposure results in 21,000 deaths per year, including 400 deaths annually in Iowa alone.
Iowa has the highest radon levels of any state. 71.6% of homes measure at or above the EPA's action level of 4 pCi/L. In fact, the average radon level in Iowa homes is 8.5 pCi/L. Compare that with an overall United States average of 1.3 pCi/L.
What can I do about radon?
I'm so glad you asked! Although the idea of a radioactive gas that you can't see, smell, or taste may sound overwhelming, there is a lot we can do about it.
Home Owners
You can purchase a low-cost radon test kit from the American Lung Association (or call 800-383-5992). Test kits are also widely available at hardware stores.
If your levels are at or above 4 pCi/L, contact a Radon Mitigation Specialist certified by the State of Iowa. The Iowa Department of Public Health regulates this certification and has an updated list of certified Radon Mitigation Specialists here.
Renters
If you rent outside of Iowa City or your Iowa City rental does not qualify as a single-family home or duplex, the EPA has published "A Radon Guide for Tenants" that you may find helpful.
Real Estate Agents
Realtors and real estate agents can also play an important role in radon awareness in Iowa. Learn more from the EPA on their Radon and Real Estate Resources page.
School Administrators
Radon testing and mitigation is important for the health of students and staff. It can even identify opportunities for energy efficiency and cost savings. For example, Energy Association of Iowa Schools provides a School Radon Training & Support System for Iowa schools. (Learn more about this program and how it has adapted during COVID-19 here.)
Healthcare Providers
Simply asking patients if they have tested for radon in their homes is a huge step towards preventing radon-caused lung cancer. The Iowa Cancer Consortium's Radon Workgroup has compiled many resources for providers on our Breathing Easier webpage, including a guide from the Conference of Radiation Control Program Directors (CRCPD), Inc., the EPA, and Dr. Bill Field (Professor in the University of Iowa's College of Public Health).
How can I get involved and raise awareness about radon in Iowa?
The Iowa Cancer Consortium has a Radon Workgroup that is always looking for new members. You certainly qualify if you are passionate about radon-caused cancer issues in Iowa. Learn more about Consortium membership options here, or reach out to Liz Orton (that's me!) at [email protected] or 319-467-4569.