COVID-19 Doesn't Stop School Radon Teams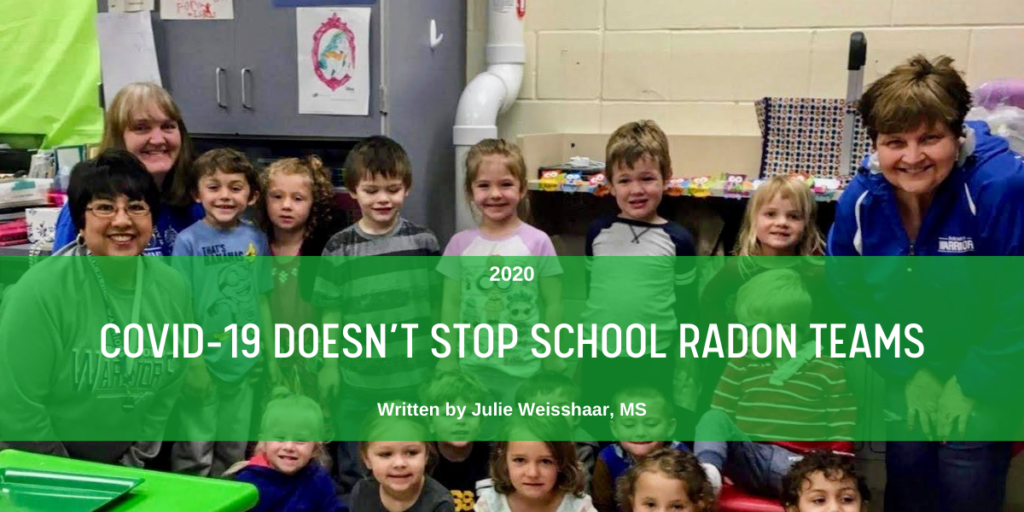 By Julie Weisshaar, MS
According to the Environmental Protection Agency (EPA), radon is the second leading cause of lung cancer among non-smokers. The EPA considers Iowa to be a high-risk zone for radon gas and recommends that all schools test for radon. Energy Association of Iowa Schools (EAIS) created the School Radon Training & Support System in 2015 to help schools learn to test their buildings for radon themselves. Over five years, EAIS is proud to have helped 54 school districts voluntarily test 179 buildings and reduce or mitigate the elevated radon concentrations found in 39% of those buildings.
This year when the State of Iowa shut down schools to help slow the spread of COVID-19, nine of the 20 districts participating in the FY20 SRTSS program had identified elevated radon levels needing to be fixed. Even with shutdown protocols and additional responsibilities, participants persevered in reducing the risk for lung cancer in their buildings.
Of the nine school districts with elevated radon levels:
One was able to reduce its radon concentration to below the action level through room pressurization.
Five districts completed active mitigation with licensed professionals installing radon mitigation pipes and fans.
Two districts are completing building renovations and retesting to see if radon levels have been reduced.
One was unable to complete mitigation due to the COVID-19 shurtdown and will revisit the issue after the pandemic subsides.
EAIS will remind and further support the three school districts needing radon follow-up.
Elements of Success
The following factors contributed to project success in the middle of a pandemic:
EAIS having in-the-trenches connections in order to be informed and empathetic, allowing for better communication and support.
Because of matching Cancer Implementation Plan grants provided through the Iowa Cancer Consortium and the Iowa Department of Public Health, schools could more easily prioritize radon testing and fixing.
The resiliency of school personnel as they dealt with this novel virus while fixing invisible radon gas.
The strong relationships EAIS has built with school district participants brought comfort and trust during an unsettling time.
As we move into the 2020-21 school year, there is much that is unknown due to COVID-19. Consequently, we don't how much of a priority schools will be able to give radon testing. But we do know that EAIS, the School Radon Training & Support System, and Iowa's dedicated School Radon Teams will continue to be #RadonFighters through worldwide pandemics and beyond.
The new school radon team from Treynor Community School District proudly displays the SRTSS Radon Fighter wrestling championship belt.
A kindergarten classroom at Rockford Elementary School in Rockford, IA with a newly installed radon pipe, part of Energy Association of Iowa Schools' School Radon Training & Support System program.
A student team at Central Decatur Community School District learned about radon and helped their facility manager hang and track radon test kits.