Meet Kelly Angell, Rural Community Outreach Coordinator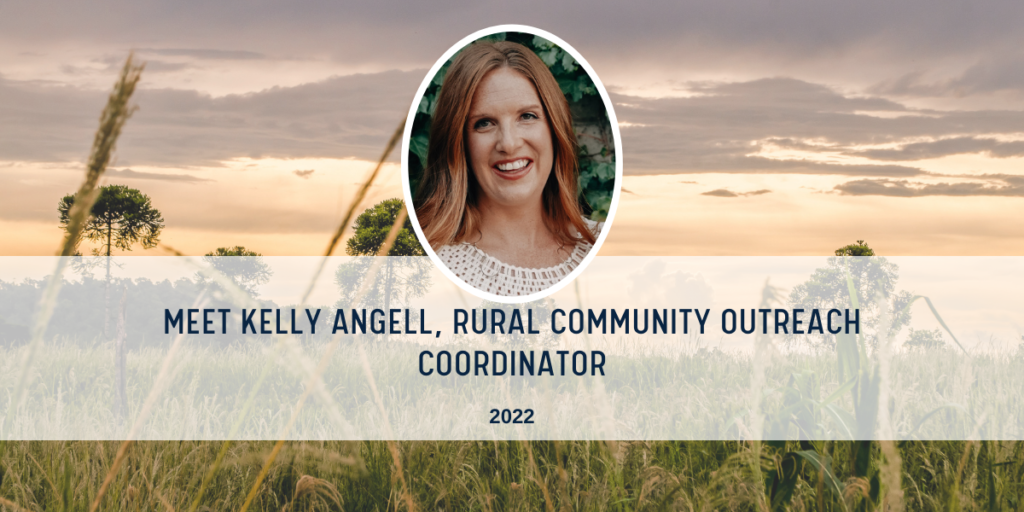 My name is Kelly Angell and it is an honor to serve as the Rural Outreach Coordinator for the Iowa Cancer Consortium. I live with my husband, Brad, and our children Bryson (8), Claire (5), and Isabel (2), in Black Hawk County. We also have an Australian Shepherd named Zoey at home who likes to bark at the mailman everyday. In this role, I hope to connect people and resources across the state to reduce the burden of cancer that affects Iowa's rural population. Being able to help someone, even in a small way, never feels like work to me. This role is something that excites me and I know can make a lasting impact.

A CALL TO CANCER CONTROL
I don't feel like I chose the career of helping those affected by cancer. It chose me. When I was in high school, my music teacher was diagnosed with cancer. We saw an article in the local paper to help raise money for cancer research and it sounded like a great way to show her how much we cared. It turns out that was the local American Cancer Society Relay for Life. It was a wonderful experience to walk those laps to honor her, knowing that we were a part of something much bigger than ourselves.
When I departed for my freshman year of college at the University of Iowa, I was not quite sure where my major would land, but I knew I wanted to work with people and for an organization that helped people. Within the first month of beginning college I also needed to find a job, so my student advisor helped me start a position at the College of Public Health. I was working with something I had never heard of before – the State Health Registry of Iowa (now the Iowa Cancer Registry). From 2004-2005 I worked with SHRI on the follow-up team to help make contacts with cancer patients, gathering data for the very reports I use today to share and discuss cancer statistics. I was also heavily involved in Dance Marathon all 4 years at Iowa, which profoundly shaped my heart to always want to have a career in helping others.
BECOMING A CAREGIVER
In my junior year at Iowa I got a frantic call from my family. My Grandma was being transported to the University of Iowa Hospitals and Clinics and I needed to go to the emergency room, as I was the only family near. Sadly my grandmother was diagnosed with stomach cancer which had metastasized. For many weeks I rotated my time in class, my grandma's hospital room, the pediatric cancer unit to visit Dance Marathon kiddos, and my apartment to sleep. The burden felt heavy, but galvanized my heart to do more. Besides the nurses, I was the primary family member looking after my grandma until she was transferred back home. When my grandmother passed away, I was changed forever seeing how cruel and crushing cancer can be.
After graduating in 2008 with a B.A. in Sociology as well as a B.A. in Journalism and Mass Communication, I focused on philanthropy working both with the University of Iowa Foundation as the first Williams Fellow, and then Ruffalo Noel Levitz as a creative writer for higher education fundraising. My dream job was working at the American Cancer Society and an opening finally came in 2010. For the past 10 years I was able to fulfill a life calling through my various roles at the American Cancer Society.
It was when I was a program coordinator with mission delivery that I was again shaken to my core. A rural cancer patient in need of assistance to get to treatment appointments was not able to receive any resources, and a social worker let me know the patient had opted out of care because of the difficulty to get to treatment. I felt again called to do more. So working with the Iowa Cancer Consortium, we launched the 3-year Implementation Grant to improve transportation for Iowa's cancer patients. When my role with the American Cancer Society was eliminated in 2020 due to the pandemic, I was able to continue and complete the work with the grant.
When the position of Rural Outreach Coordinator opened, it was that same familiar calling I felt just like I was back in high school. I hope to always have the capacity to help others through the work I do to reduce the burden of cancer.