Meet Emma Meador, Spring 2022 Practicum Student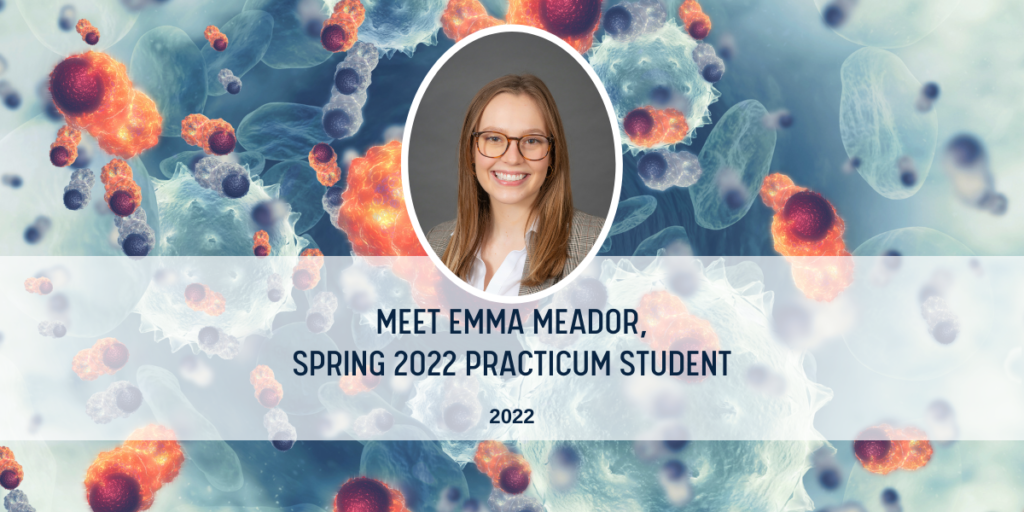 Hello! My name is Emma Meador, and this semester, I've had the privilege to complete my practicum experience at the Iowa Cancer Consortium. This practicum experience is required of all MPH students and encompasses gaining real-world experience in public health. My role this semester has been to help design Iowa's first pediatric cancer section for the consortium's anticipated 2023-2027 Iowa Cancer Plan.
A bit about myself – In May 2021, I graduated from the University of Iowa with a Bachelor of Science in Public Health. I'm now a second-year Master of Public Health candidate in Epidemiology, as I was able to begin my master's classwork as an undergrad. My research, examining infectious disease exposures, has motivated me to pursue this field. I additionally worked as a teaching assistant, graduate student ambassador, and public health consultant.
While consulting through BLH Technologies in Rockville, MD, I had the opportunity to work with the National Cancer Institute to examine the correlation between breast cancer and tobacco use. Moreover, my recent work with cancer has sparked an interest, and I've been eager to learn more about the chronic side of Epidemiology. This practicum has provided me with a wonderful experience to do just this and focus on a topic I'm passionate about- pediatric cancer.
It has been great working with such a fantastic team at the Iowa Cancer Consortium!