Legislation to Save Lives: Gail Orcutt Radon School Safety Act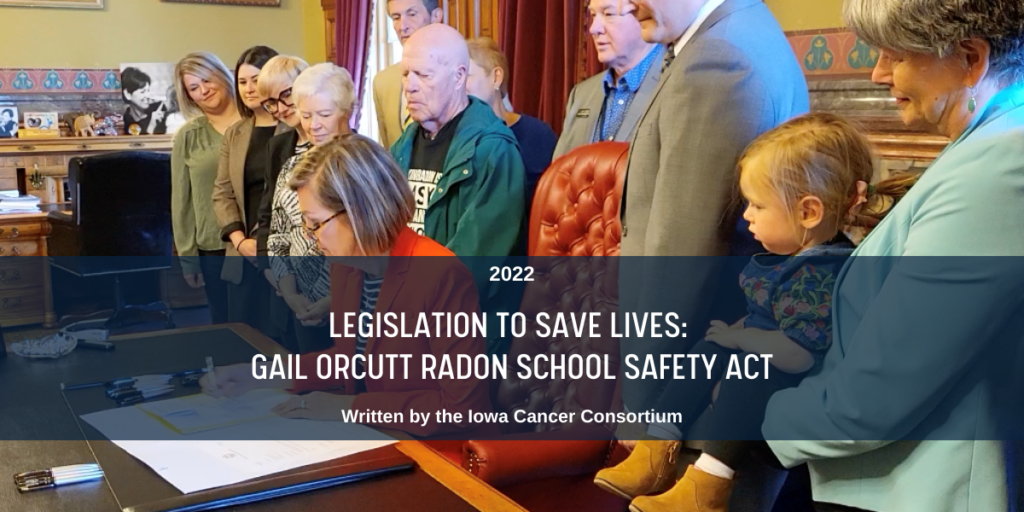 It feels like yesterday when our staff attended some of the first meetings of the Iowa Radon Coalition in 2010 – back in the days before Zoom, when we relied on a mix of conference calls and meet-ups in Grinnell to convene stakeholders. What began as one Iowan telling her story of a lung cancer diagnosis as a non-smoker quickly grew into a movement for radon advocacy and awareness throughout the state of Iowa.
Learn more about radon here: https://www.epa.gov/radon
The Gail Orcutt Radon School Safety Act was signed into law by Governor Reynolds on May 24, 2022. Key components of the bill, named in honor of Gail Orcutt who was a retired Iowa teacher and radon safety advocate who lost her battle with radon-induced lung cancer in 2020, include:
Requiring all Iowa public schools to test their attendance centers for radon and, if necessary, mitigate radon in their schools.
All testing needs to be completed by all Iowa public schools by 2027 and repeated at least once every 5 years.
The law also requires all new school construction to incorporate radon-resistant construction techniques.
Photo Credit: Julie Weisshaar, Energy Association of Iowa Schools. L-R: Rachel Schramm, Bridget Toomey, Morgan Newman, Linda Webner, Gov. Kim Reynolds (seated), Gary Streit, Bill Orcutt, Micki Sandquist, Rep. Art Staed, Lt. Gov. Adam Gregg, Penelope, Maria Steele.
The Governor's office was filled with advocates, and the room was near silent as the Governor penned her signature across the bill. Special guests included Bill Orcutt (Gail's husband), Maria Steele and family (another radon-induced lung cancer survivor), Dr. Richard Deming (Mercy Des Moines), Rep. Art Staed, and many members of the ACS CAN advocacy team.
Testing your home for radon
Although there are no immediate symptoms, long-term exposure to radon can cause cellular damage in the lungs that can lead to lung cancer. Contact your local county health department or call 1-800-383-5992 to purchase a do-it-yourself, low-cost test kit. Test kits are also available for purchase from most hardware and home improvement stores. If you would like an Iowa certified measurement professional to test your home see the list or map visit: https://idph.iowa.gov/radon/fix