Iowa Cancer Consortium Receives Sponsorship to Accelerate Health Equity Initiatives in Iowa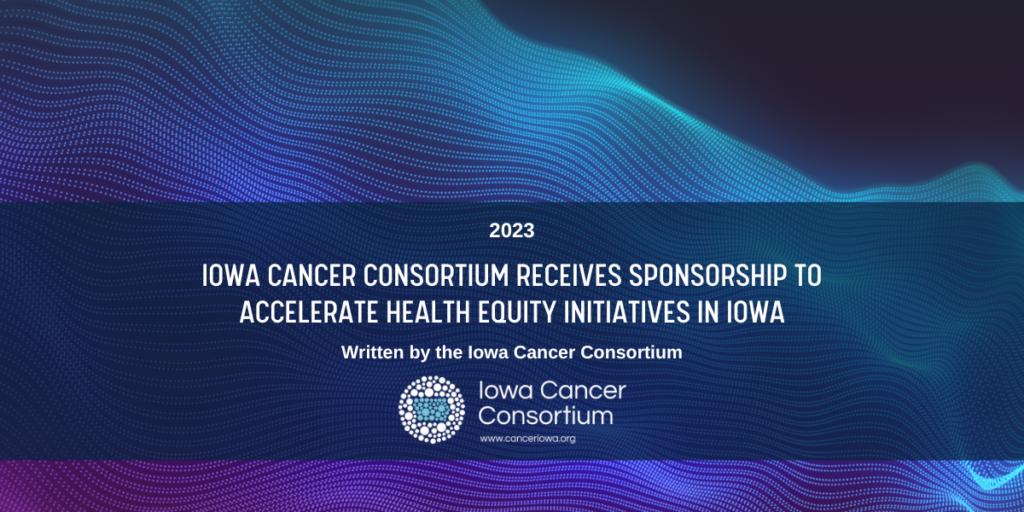 Iowa City, IA (July 12, 2023) – The Iowa Cancer Consortium, Iowa's statewide comprehensive cancer coalition, was awarded a $70,000 sponsorship by biotechnology company Genentech. The sponsorship will support equity training and programmatic initiatives to equitably reduce the cancer burden in Iowa.  
According to the Iowa Cancer Registry, Iowa is the only state in the nation with a significant increase in cancer incidence from the years 2015-2019, and has the second-highest overall cancer incidence of all U.S. states. And while cancer is a disease that can affect anyone, it doesn't affect everyone equally.
A cancer diagnosis impacts Black Iowans at a much younger age compared to the white population.

Iowa's Black population has the highest cancer incidence rates of all racial/ethnic groups for those ages 50-79 years, whereas Iowa's white population has the highest rate among those 80 and older. 

Life expectancy of the Black population in Iowa is only 74.8 years compared to 79.3 years for the white population.

Aside from suicide and liver disease, Iowa's Black population has the highest mortality rate in every single major cause of death, including cancer. 

As Iowa's Latino population continues to grow, it is important that Iowa has culturally and linguistically appropriate cancer services and programs to serve them.

Cancer remains a leading cause of death among Latino people, accounting for 20% of deaths. Higher risk for cancers associated with infectious agents, such as liver, stomach, and cervix

2

.  
The new sponsorship will allow the Iowa Cancer Consortium to amplify its 2023-2025 health equity programming including: 1) training and educating Iowa's cancer control workforce to identify and address inequities in cancer outcomes and to provide care and services that value the unique identities of all Iowans; 2) Developing inclusive, culturally relevant materials to increase accessibility and equitable implementation of the 2023-2027 Iowa Cancer Plan; 3) Supporting and facilitating efforts to increase cancer screening among rural populations, communities of color, and other under-represented communities. 
"We know that cancer doesn't impact all communities equally across Iowa," says Kelly Wells Sittig, executive director of the Iowa Cancer Consortium. "There is work to be done and we are extremely grateful to Genentech for their support, allowing our organization to be an instrumental part of this change."
Founded more than 40 years ago, Genentech is a leading biotechnology company that discovers, develops, manufactures and commercializes medicines to treat patients with serious and life-threatening medical conditions. The company, a member of the Roche Group, has headquarters in South San Francisco, California. For additional information about the company, please visit http://www.gene.com.
###
About the Iowa Cancer Consortium
The Iowa Cancer Consortium is a partnership of more than 600 health care providers, public health professionals, caregivers, researchers, cancer survivors, volunteers and other Iowans who work together to reduce the burden of cancer in our state. Through collaboration, the Consortium enhances partners' abilities to address cancer prevention, early detection, treatment and quality of life in Iowa. Learn more at www.canceriowa.org.
Contact
Rachel Schramm
Iowa Cancer Consortium
[email protected] 
–
Reference List:
State Health Registry of Iowa. 2021. "Cancer in Iowa Report." 

https://shri.public-health.uiowa.edu/wp-content/uploads/2021/03/2021-cancer-registry-annual-report-FINAL.pdf

American Cancer Society. 2021. "Cancer Facts & Figures for Hispanic and Latino People."

https://www.cancer.org/research/cancer-facts-statistics/hispanics-latinos-facts-figures.html