Even Through Uncertain Times, St. Anthony Regional Hospital's New Cancer Center Serves as a Beacon of Hope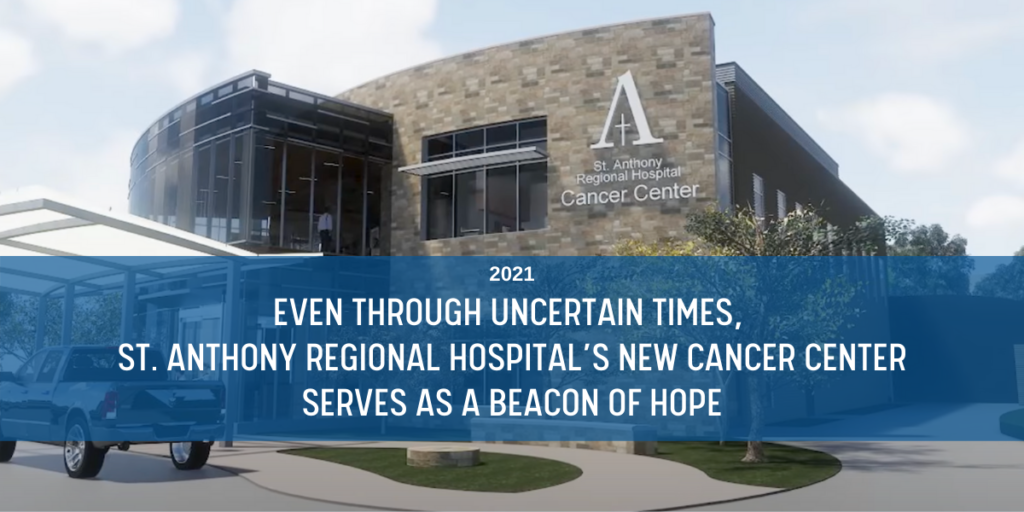 On December 7, 2020, St. Anthony Regional Cancer Center opened its doors to serve the patients of West Central Iowa. This building and enhancing the service line took years of planning and vision. A global pandemic couldn't stop the plans. As we all know cancer knows no barriers, nor did the dedicated team brining this vision to life.
Cancer care is not new to St. Anthony Regional Hospital (SARH). In fact, over 30 years ago, the opportunity to offer Medical Oncology services onsite at SARH came to life with the addition of Dr. Mark Westberg out of Medical Oncology & Hematology Associates (MOHA) in Des Moines. Several years later, when Dr. Robert Behrens, a Carroll native, started providing an additional day of coverage, services expanded. Advances in outpatient treatment opportunities and the addition of an infusion therapy line made this possible. In 1995, a joint effort with Immanuel Hospital in Omaha expanded our cancer services to include radiation oncology. As a result, this opportunity provided equipment and staff to offer 5 day a week radiation therapy treatment on campus.
Filling Needs of the Community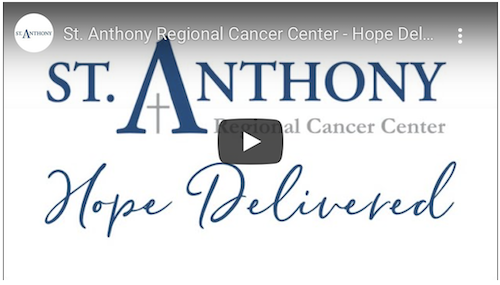 In 2017, SARH embarked on conducting a feasibility study, fully evaluating the service line. This study looked at the current technology, national trends, support services, and limitations to providing care. The study identified that the aging population of rural Iowa will only increase the need to provide high quality care. From 2013-2015, St. Anthony saw a growth of 23% in new cancer cases. Additionally, there was a need to update the radiation therapy equipment, expand our support services, and expand the infusion space. With this information the planning process started and the journey of building a free-standing cancer center along with building a comprehensive cancer program started.
In April 2019, SARH broke ground on a multimillion-dollar cancer center and the start of the "Building Hope Campaign." The new center would take into account updating technology needs, increasing space and natural light in patient care areas and investment in non-revenue support services to better care for our patients. Consequently, the addition of a dedicated cancer services director, nurse navigator, financial navigator, and additional dietitian services help move the service line to the comprehensive care model.
Providing Access to Quality Cancer Care
Increasing a patient's access to quality cancer care and services was identified by the Iowa Cancer Consortium's 2018-2022 Iowa Cancer Plan. The construction of this beautiful space and expansion of the support services helps align the goals of the organization with the goals of the State of Iowa. As a result, we now have the ability to better support patients and families by utilizing the nurse navigator. We increased our medical oncology days from 3 to 4 per week and have installed state of the art advanced radiation therapy equipment. This new equipment will grow the radiation therapy program and provide the most up-to-date therapies.
The whole building is filled with natural light, offering a view for patients to enjoy during their infusion therapy treatments. Front row parking and easy drop off locations allow patients to enter the center with few difficulties. The center is also attached to the main campus to allow access to ancillary services without duplicating service lines. Furthermore, patients do not need to navigate interstate and city traffic to access the most advances care. They can take one of our main intersecting highways 30 or 71. Then they are greeted by a team of highly trained professionals ready to support them through their cancer journey.
Prioritizing Patients' Needs
We have the goal to be the regional cancer center that best serves the patients of West Central Iowa. Collaborating with a patient's primary care professional to meet their needs is our top priority. We look at ways to give patients access to local resources in their home community but also utilize the cancer services at our new center. Rural Iowa communities count on dedicated residents to work, volunteer and be active in their communities. For instance, if we can decrease the travel time and get these patients and their support network back home and active in their communities, we are all successful.
With the limitations of COVID-19, we were unable to have a traditional open house prior to opening. What we were able to do was put together an amazing video that spotlights the building, patients and staff and what makes this project as amazing as it has become.