Engaging as an Iowa Cancer Consortium Member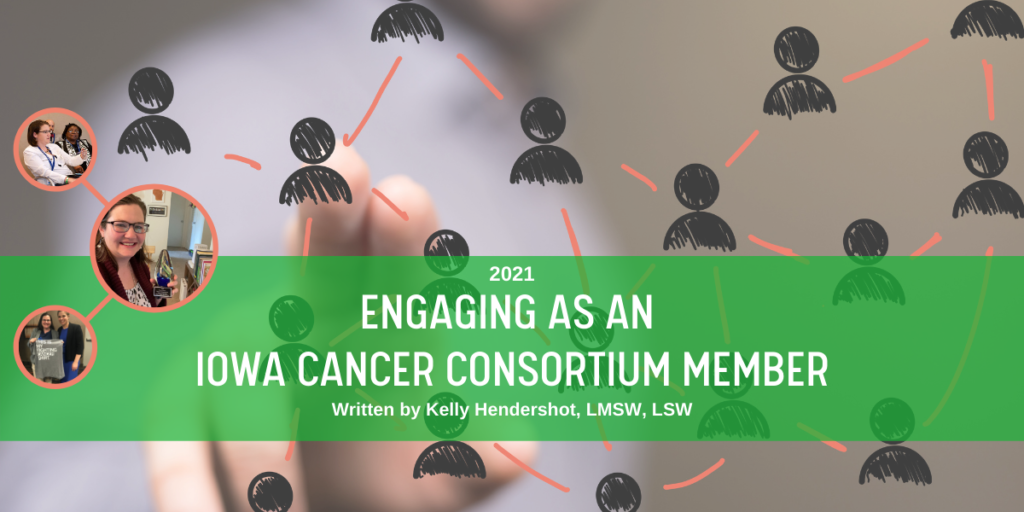 Written by: Kelly Hendershot, LMSW, LSW
In July 2015, I joined the staff at Gilda's Club Quad Cities on a full-time basis. As a result of having been a group facilitator previously, I already had a good idea of how we functioned. Evidence-based, Gilda's Club offers emotional support groups, educational programs, healthy lifestyle activities, social activities and provides important resource/referral information. Therefore, I was now ready to learn more about key partnerships and collaborations that helped us tick. Certainly, this included our membership in the Iowa Cancer Consortium.
Gilda's Club was already a Consortium organizational member, so I was able to be added to our bundle without any additional cost. Incidentally, individuals may also join the Consortium. This cost is typically $20 a year. However, there is also a student rate of $15 a year and scholarship options. During the process of creating my profile, I was asked to select if there were any workgroups or committees I was interested in. With a background in journalism and marketing, the Communications Committee seemed perfect. I also joined the Quality-of-Life workgroup to improve skills that would best serve Gilda's Club members. Eventually, I came to be co-chair of this workgroup, along with the wonderful Katie Jones (Manager of the Comprehensive Cancer Control Program at IDPH).
Develop Partnerships
I quickly learned that I really enjoyed the annual networking opportunities the Consortium offered. For example, I loved to meet and connect with others who were passionate about reducing Iowa's cancer burden. This included the annual Spring Meetings and Iowa Cancer Summit. A bit of a conference geek, I always find myself feeling invigorated after attending these meetings. Often times, this led to new state-wide resources that our team could share with members. I also found myself naturally growing my list of speakers who were willing to present to our members in Davenport.
One opportunity came when I was looking for partners to participate in an innovative grant, I had received funding for. Yes, my friends, providing educational workshops via Zoom was considered innovative back in 2019. The Consortium helped me seek out these partners by allowing me to post my needs via their social media channels and via the The Cancer Connection newsletter. I also combed the membership directory in my efforts to seek out speakers.
As a result, a collaboration formed amongst Gilda's Club, Physician's Clinic of Iowa and Helen G. Nassif Community Cancer Center. We live-streamed on Facebook a chronic lymphocytic leukemia (CLL) presentation with speakers in Cedar Rapids so others across the state could participate! There was also an in-person audience that watched together in Davenport. While Zoom presentations are now the norm, this effort helped pave the way for future hybrid presentations.
Find Funding
Grant funding has been another great benefit of Consortium membership. I'm certainly proud to say that Gilda's Club has often been a recipient of the annual Iowa Cancer Plan Implementation Grant. For instance, funding led to providing Cancer Transitions – a survivorship series, and Yoga4Cancer classes, sun safety presentations to high school students, and continuing education opportunities for nursing professionals in our outreach communities of Clinton and Muscatine.
Gilda's Club has also been the recipient of sunscreen through the Consortium's Sun-Safety Community Project. Firstly, it was a convenient way to protect our participants at summer events. Secondly, sunscreen provided the perfect prop for educational talks to our camp participants regarding sun safety. Finally, requesting sunscreen was an introduction to the entire grant process: submitting a letter of intent, completing an application and reporting results. Therefore, I liked to task staff who needed to grow their grant writing skills with this particular opportunity.
In addition to funding offered directly through the Consortium, membership also led to learning about new grant opportunities through The Cancer Connection newsletter. The Iowa Cancer Plan itself contains such great statistics about cancer in Iowa that I often would use it as a cited source when applying for grants through other funders.
Let's Pause for a Photo Break Illustrating this Engagement
Build Skills and Knowledge
Actively involved in the Policy Committee was my program director, Melissa Wright. I was quite happy to leave that committee role to her. She was more experienced to represent Gilda's Club when it came to advocacy. She was also more known in the cancer care community. I didn't have anything worthwhile to share with Iowa lawmakers. These were the stories I told myself, anyway.
In 2018, my mentor and friend left Gilda's Club. As I stepped into the program director role, it became important to me that we didn't lose the traction we had made in the advocacy community. So, I pushed my imposter syndrome aside and reached out to Kelly Sittig about joining the Policy Committee. The fact that I just needed to be passionate about reducing cancer burden was an important lesson that I learned. I had no lack of passion.
I also grew my comfort in public speaking as a result of my Consortium membership. I've had the opportunity to speak on a caregiver panel during a Summit, lead a chair yoga demonstration at that same event, and present during a Spring Meeting. I also learn something each month by reading The Cancer Connection newsletter, Coordinated Messages, and blog posts the Consortium puts together. Incidentally, if you have a story you think would interest other members but don't have the confidence to write your own post, reach out anyway. The Consortium team is happy and willing to set up an interview so they can gather the facts and do the actual writing on their end. It's a team effort.
Reduce the Burden of Cancer… Together
A team effort is actually how I can best sum up the benefits I've received as a Consortium member. When I meet someone with similar goals and interests, I love to find ways to collaborate. In fact, I humbly accepted the 2020 Spirit of Collaboration Award at the first Virtual Iowa Cancer Summit. Receiving that award in October was made all the more special by the fact that three months earlier I had left Gilda's Club Quad Cities and relocated to the Washington, D.C. area for a new role at the Cancer Support Community headquarters, of which Gilda's Club is an affiliate. I had learned and grown so much through my Consortium membership, that I happily opted to stay involved through the remainder of the fiscal year as a communications subcontractor.
Each of us brings a unique set of qualifications that contributes towards our goal of reducing the burden of cancer – TOGETHER. So take advantage of the access to resources, expertise, and non-competitive collaboration across traditional boundaries your membership offers you. We're all working for a bigger impact in cancer prevention, early detection, treatment, and quality of life. As we say at the Cancer Support Community, COMMUNITY is stronger together.
The Iowa Cancer Consortium will always hold a special place in my heart. While I'm no longer in Iowa, I'm always happy to connect and discuss how to further engage in the Consortium. Please reach out to me with any questions: [email protected]