Summer 2022 Reading List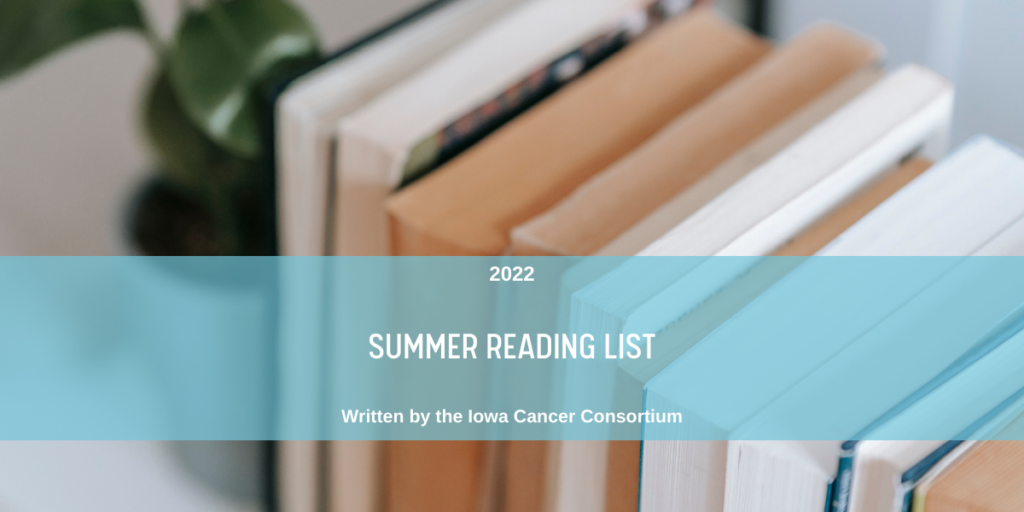 Summer is here! Although we don't have a bike or a pizza party to give away for top readers, we do have some reading recommendations for your personal summer reading challenge! We asked our cancer control partners what they've been reading lately, whether it be about cancer, public health, health equity, or just a good book. Here's what they said!
Check your local library or favorite book store for these great titles!
---

Being Mortal: Medicine and What Matters in the End, by Atul Gawande
This is a book that every human should read, especially those of us in health care, public health, and adjacent fields. It's an engaging look at how we deal with aging, illness, and end of life in this country and how we could do it better and more meaningfully.
Recommended by Kelly Sittig, Iowa Cancer Consortium
---

Body of Truth: How Science, History, and Culture Drive our Obsession with Weight – and What We Can Do About It, by Harriet Brown
This book discusses an issue I think about a lot – how weight is addressed and discussed in public health and health care (and society) and what research does and doesn't tell us about weight loss and health. (Bonus recommendation: If you're interested in this topic, check out the Maintenance Phase podcast.)
Recommended by Kelly Sittig, Iowa Cancer Consortium
---

The Emperor of All Maladies: A Biography of Cancer, by Siddhartha Mukherjee
If you're interested in the history of cancer treatment, research, and public opinion, this is the book for you. Mukherjee walks readers through the narrative history of cancer, making connections and painting pictures of the people who played important roles in scientific discoveries, fundraising, and reducing the stigma surrounding cancer. If you've seen the PBS documentary Cancer: The Emperor of All Maladies, you'll be pleasantly surprised how much more is included in the book that isn't in the film.
Recommended by Liz Orton, Iowa Cancer Consortium
---

Evicted, by Matthew Desmond
"Through a year of ethnographic fieldwork, Desmond's goal in the book is to highlight the issues of extreme poverty."
Recommended by Kelly Angell, Iowa Cancer Consortium
---

No Cure for Being Human (and Other Truths I Need to Hear), by Kate Bowler
"Kate Bowler believed that life was a series of unlimited choices, only to find that she was stuck in a cancerous body at age 35. In her instant New York Times bestselling book, No Cure for Being Human, Kate searches for a way forward as she mines the wisdom (and absurdity) of our modern "best life now" advice industry, which offers us exhausting positivity, trying to convince us that we can out-eat, out-learn and out-perform our humanness. With dry wit and unflinching honesty, she grapples with her cancer diagnosis, her ambition, and her faith and searches for some kind of peace with her limitations in a culture that says that anything is possible."
Recommended by Katie Jones, IDPH
---
The Premonitions Bureau, by Sam Knight
Can premonitions be scientifically studied? Sam Knight details the true, humorous, and creepy tale of psychiatrist John Barker who sought to document visions from Britons in the 1960s and 1970s, some of which came eerily true. It was impossible for me to put this book down — both fascinating and chilling!
Recommended by Liz Orton, Iowa Cancer Consortium
---

They Called Us Enemy, by George Takei
This graphic memoir came out in 2019 but I only recently had a chance to read it, and it was very moving and interesting; it is about George Takei's life, including the years in his childhood he spent incarcerated within American concentration camps (often referred to as Japanese internment camps) during World War II.
Recommended by Katie Jones, IDPH
---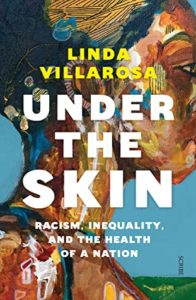 Under the Skin: The Hidden Toll of Racism on American Lives and on the Health of Our Nation, by Linda Villarosa
"In Under the Skin, Linda Villarosa lays bare the forces in the American health-care system and in American society that cause Black people to "live sicker and die quicker" compared to their white counterparts. Today's medical texts and instruments still carry fallacious slavery-era assumptions that Black bodies are fundamentally different from white bodies. Study after study of medical settings show worse treatment and outcomes for Black patients. Black people live in dirtier, more polluted communities due to environmental racism and neglect from all levels of government. And, most powerfully, Villarosa describes the new understanding that coping with the daily scourge of racism ages Black people prematurely. Anchored by unforgettable human stories and offering incontrovertible proof, Under the Skin is dramatic, tragic, and necessary reading."
Recommended by Katie Jones, IDPH
---

When Breath Becomes Air, by Paul Kalanithi
"When Breath Becomes Air follows Kalanithi's journey from medical student, deciding what would provide a meaningful life, to neurosurgeon, who operates in the very center of the human identity: the brain, before finally a patient with terminal cancer, as a new father."
Recommended by Kelly Angell, Iowa Cancer Consortium