Starting a Cancer Clinical Trials Program in a Rural Iowa Hospital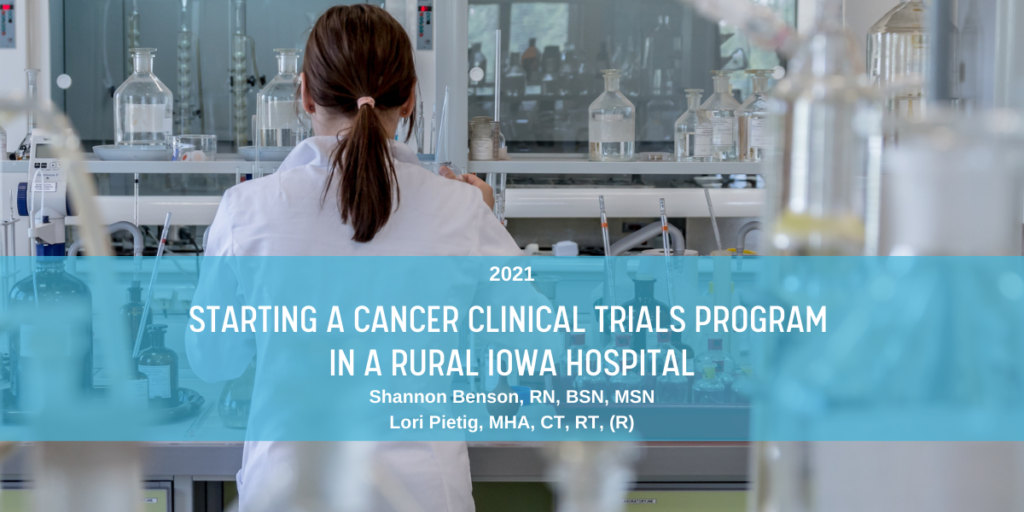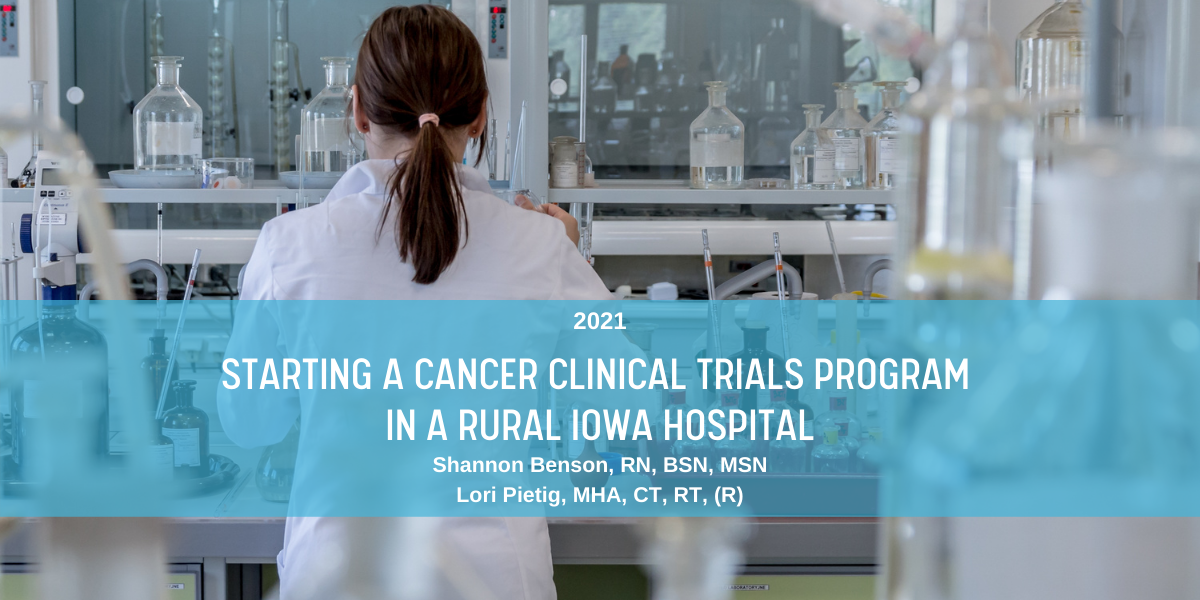 On July 13, 2021, the Iowa Cancer Consortium was pleased to host Shannon Benson, Administrator at the Iowa Oncology Research Association and Lori Pietig, Cancer Services Director at St. Anthony Regional Cancer Center for an Iowa Cancer Clinical Trials Virtual Roundtable. During the roundtable, the two Consortium members discussed how their partnership came to be. Additionally, they offered practical steps that other rural hospitals can follow to start their own cancer clinical trials program.
Partnership Summary
In 2020 and 2021, leaders at St. Anthony Regional Cancer Center and the Iowa Oncology Research Association (IORA) worked together to start a cancer clinical trials program at the newly opened cancer center in rural Carroll, Iowa. The effort took about five months, and St. Anthony is now an IORA sub-affiliate site and has trials open in colon, colorectal, glioblastoma, and pancreatic cancers, plus chemotherapy-induced peripheral neuropathy.
About St. Anthony Regional Cancer Center
The St. Anthony Regional Cancer Center opened its doors on December 7, 2020. This new space brought three long-standing service lines together under one roof. The Medical Oncology, Radiation Oncology, and Infusion Therapy departments have access to state-of-the-art equipment and patients are welcomed into a warm, light-filled patient-centered environment. In an effort to continue to develop as a comprehensive cancer center, St. Anthony has made the commitment to expanding patient support services and developing programs like the option for clinical trial drug availability to patients. There are resources and programs available to rural cancer centers to help increase access to care for the patients they serve. For more information, contact Lori Pietig at [email protected].
About the Iowa Oncology Research Association (IORA)
IORA's mission is to link Iowans to national cancer research studies and make participation in such studies available on the local level. IORA is housed at John Stoddard Cancer Center in Des Moines, but is an independent, private nonprofit organization. IORA is a community site in the National Cancer Institute Community Oncology Research Program (NCORP). Any physician in Iowa can become an enrolled IORA physician. Becoming an IORA sub-affiliate site costs nothing and does not require bringing on new staff – the IORA research staff performs those duties for its sub-affiliates. For more information, contact Shannon Benson at [email protected].
Steps Identified through this partnership for starting a cancer clinical trials program in a rural Iowa hospital
Launch your partnership with IORA. Become familiar with IORA's process and requirements.
Find your champions.

A physician champion is a provider willing to take on and oversee the clinical trials program and work with IORA to access required training. The physician champion must complete a virtual training to become an enrolled IORA physician. In most cases, the training usually takes less than a day.
An administrative champion can act as the project point person, cheerleader, team builder, and overall project driver. This person should plan to spend most of their time completing and organizing paperwork and coordinating teams.

Establish realistic shared goals, timelines, and roles.
Pull the multi-disciplinary internal team together for input. Consider including representatives of administration, billing, HIM, pharmacy, infusion, EMR, quality, and cancer center leadership. Work to gain buy in internally across departments.
Gather the required paperwork, including:

CTEP Institution Code. Contact

[email protected]

to obtain a code.
Signed agreement with the Iowa-Wide Oncology Research Coalition, managed by IORA.
Tumor registry form, provided by the Iowa Cancer Registry.
Federal Wide Assurance Number with expiration date.

Work with IORA to identify and open trials that fit your site and patient population. In this way, you can offer the same treatment that community members previously had to travel to larger centers to receive.
Join the Iowa Cancer Consortium's Research & Clinical Trials Workgroup and/or Rural Workgroup to connect with peers, support, and new partners. Click here for Membership information.
Key Contacts
Shannon Benson, RN, BSN, MSN, Administrator, Iowa Oncology Research Association,

[email protected]

, 515-241-3305
Lori Pietig, MHA, CT, RT, (R), Cancer Services Director, St. Anthony Regional Cancer Center,

[email protected]

, 712-794-5505
Iowa Cancer Consortium,

[email protected]