Staff Blog: Top 10 Cancer Control Resources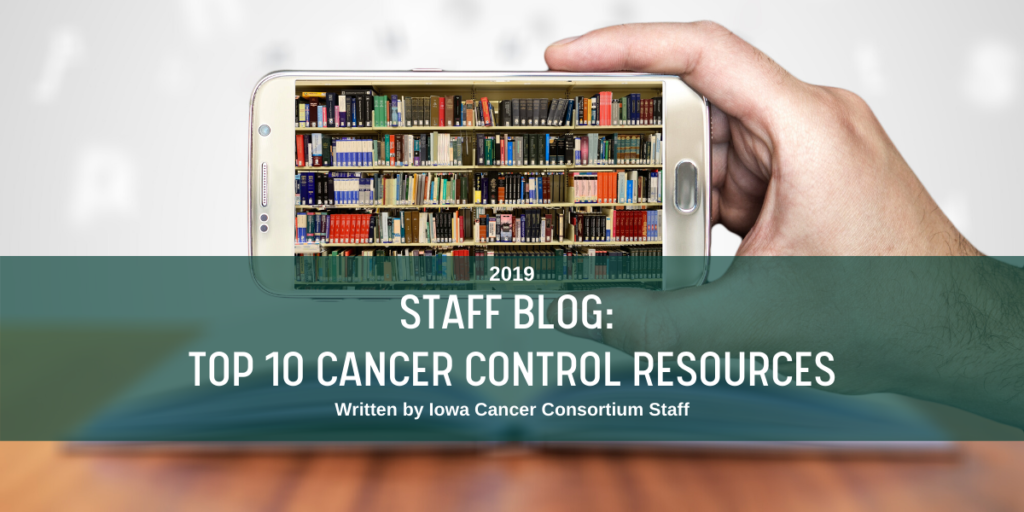 Written by:
Iowa Cancer Consortium Staff
At the Iowa Cancer Consortium, our staff works on a variety of projects and communications related to cancer control. And therefore, we are part of many newsletter lists and cancer coalitions that keep us up-to-date with reliable information about what is happening nationally. We put together a collection of our top 10 cancer control websites to help you in your cancer control journey.
1.    Iowa Cancer Registry
The State Health Registry of Iowa (SHRI)/Iowa Cancer Registry is a population-based cancer registry that has been serving the State of Iowa since 1973, and was selected as one of the original members of the National Cancer Institute's Surveillance, Epidemiology, and End Results (SEER) Program to represent the heartland.
The website features measurements of cancer incidence, survival and mortality among Iowans along with a series of cancer maps specific to the state. Plus, their staff is always one phone/email away to answer your cancer-related data questions.
Website: https://shri.public-health.uiowa.edu/
2.    The Community Guide
The U.S. Department of Health and Human Services established the Community Preventive Services Task Force (CPSTF) in 1996 to develop guidance on which community-based health promotion and disease prevention intervention approaches work and which no not work, based on available scientific evidence.
These findings are listed within The Community Guide and serves as a resource to help you select interventions to improve health and prevent disease, the tool complements decision support tools such as Healthy People 2020 and the Guide to Clinical Preventive Services. Cancer-specific interventions available include breast, colorectal, and cervical cancer screening and skin cancer prevention.
Website: https://www.thecommunityguide.org/ 
3.    United States Preventive Services Task Force (USPSTF)
The USPSTF is an independent, volunteer panel of national experts in disease prevention and evidence-based medicine. You can search for specific clinical recommendations (i.e. colorectal cancer screening, lung cancer screening, cervical cancer screening) and receive a letter grade (an A, B, C, or D grade or an I statement) based on the strength of the evidence and the balance of benefits and harms for a preventive service.
The website also features links to an app from AHRQ called ePSS (Electronic Provider Services Selector) designed to help primary care clinicians identify clinical preventive services that are appropriate for their patients, based on characteristics on age, gender, and selected behavioral risk factors. The tool searches and browses USPSTF recommendations on the web from your tablet or mobile device.
Website: https://www.uspreventiveservicestaskforce.org 
4.    GW Cancer Center – Cancer Control Technical Assistance Portal (TAP)
The George Washington University (GW) Cancer Center's Cancer Control Technical Assistance Portal (TAP) was created as a centralized resource for cancer control professionals. Users can sign up for a monthly eNewsletter highlighting new webinars, trainings, events, resources, and funding opportunities. The website also houses upcoming and past webinars on various cancer control topics. And, the program also creates monthly social media toolkits!
Website: https://smhs.gwu.edu/cancercontroltap/ 
5.    Centers for Disease Control and Prevention
The Centers for Disease Control and Prevention (CDC) has a Division of Cancer Prevention and Control, which advances cancer prevention nationwide for everyone. The Division includes screening programs like the National Breast and Cervical Early Detection Program (known as the Care For Yourself program in Iowa) and the Colorectal Cancer Program. This website is a great place to begin if you are looking for cancer control resources.
Website: https://www.cdc.gov/cancer/ 
6.    National Cancer Institute
The National Cancer Institute (NCI) is the U.S. government's principal agency for cancer research. The website offers free and comprehensive information about cancer prevention and screening, diagnosis and treatment, research from across the cancer spectrum, clinical trials, and news and links to other NCI websites. The Physician Data Query (PDQ), is NCI's comprehensive cancer information database is a tool created for patients and health professionals with the latest evidence-based information.
Website: https://www.cancer.gov/ 
7.    American Cancer Society
This website has great publications like the annual Facts & Figures which describe the cancer burden in the U.S. and some of the latest cancer research news.
Website: https://www.cancer.org/research.html 
8.    MedlinePlus 
MedlinePlus is the National Institutes of Health's website for patients and their families. Produced by the National Library of Medicine, the world's largest medical library, the website brings you information about diseases, conditions, and wellness issues in language that can be easily understood.
Website: https://medlineplus.gov/ 
9.    Robert Wood Johnson Foundation (RWJF)
Have you ever heard the analogy about how we are like fish in a fishbowl? We are only as a healthy as the water around us. While medical care is of the upmost importance, factors like the quality of our schools, affordability and stability of our housing, access to good jobs with fair pay, and the safety of our neighborhoods work to keep us healthy in the first place. RWJF has a great website with lots of health equity information and data to enable you to take the information and apply into practice.
Website: https://www.rwjf.org/en/our-focus-areas/topics/social-determinants-of-health.html 
10.    Cancer Control P.L.A.N.E.T.
Cancer Control P.L.A.N.E.T. portal provides access to various data and resources that can health program staff, planners, and researchers design, implement and evaluate evidence-based cancer control information. The website contains various links to state cancer profiles, national and international cancer control plans, and other helpful links to programs like The Community Guide (listed as a resource above), the United States Preventive Services Task Force (USPSTF), and Research to Reality.