Meet Jia Wei, Iowa Cancer Consortium Fall 2021 Practicum Student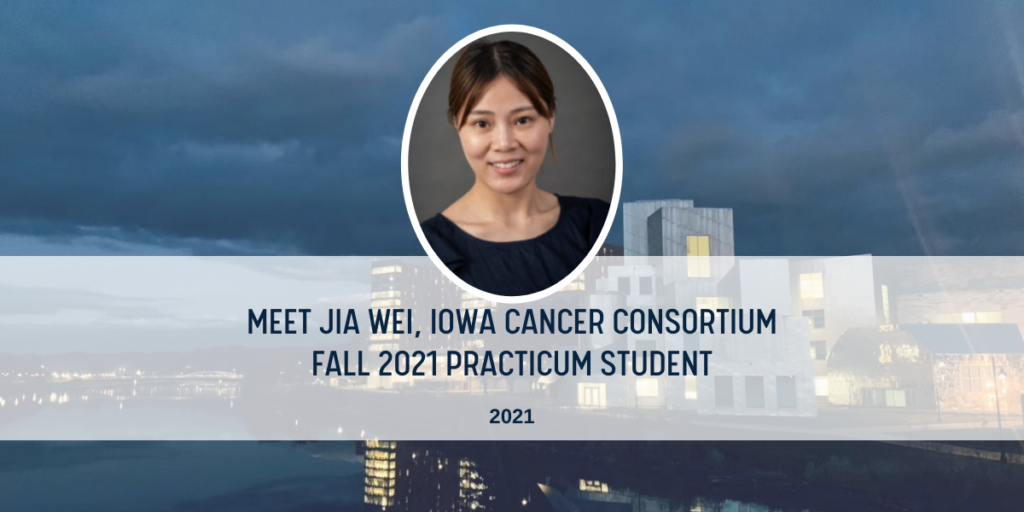 Hello, my name is Jia Wei, and I work as a practicum student with the Iowa Cancer Consortium doing member research and analysis. I am a Chinese international student at the University of Iowa, where I am pursuing a Master of Public Health in Policy degree. I'm thrilled and delighted to be here to learn more about cancer prevention.
For four years, I worked in China as a speech-language pathologist at a rehabilitation hospital with hundreds of beds. I loved my job and my patients so much, but I decided to leave to pursue a master's degree in public health.
Why the area of public health?
When I worked as a speech-language pathologist, the majority of my patients were older people who had suffered a stroke. My main role was to test their speech and language function using an evaluation scale and other technical assessments, as well as to provide them with instruction. Even after a year of treatment, most patients who have had a massive stroke show little improvement, which makes me understand how vital illness prevention is. To avoid disease development, public health helps recognize health risks as early as feasible and responds appropriately. That is the primary motivation for me to pursue a career in public health.
In Iowa, I've worked in the fields of public health and cancer prevention. I'm also very interested in clinical trials. Clinical trial research fascinates me because it allows me to see the birth and development of novel medications and technologies. Clinical research is the process of turning research discoveries into treatments that benefit both individuals and the general public. When I finish my practicum, I'd like to pursue work in cancer clinical trial research.
In my spare time, I enjoy landscape photography to capture the wonderful environment that surrounds me.