March is Colorectal Cancer Awareness Month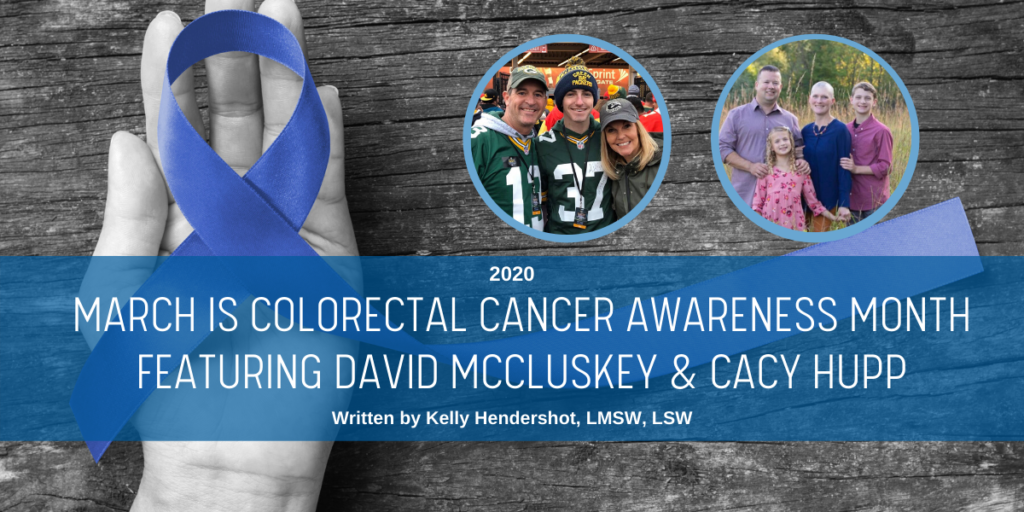 By: Kelly Hendershot, LMSW, LSW
Throughout the month of March, you're likely to see people wearing blue in support of those diagnosed with colorectal cancer, as well as social media campaigns using poop emojis. You'll most definitely hear a lot about the importance of getting your colonoscopy, at what age to do so and even other ways to get screened. But how much do you really know about the third most common cancer in men and in women?
The American Cancer Society (ACS) defines colorectal cancer as follows:
Colorectal cancer is a cancer that starts in the colon or the rectum. These cancers can also be named colon cancer or rectal cancer, depending on where they start. Colon cancer and rectal cancer are often grouped together because they have many features in common.
According to the University of Iowa College of Public Health's 2019 Cancer in Iowa report, 1,630 new cases of colorectal cancer and 14,450 instances of existing survivors were projected last year.
The rate of new colorectal cancers in adults 50+ have consistently fallen since 1985. Unfortunately, there has been an increase in incidence in young adults. While we don't currently know why cases in young adults is on the rise, studies suggest access to care and lack of awareness play a part.
This makes it important for young adults who notice symptoms that are not normal to be their own health care advocates and see their doctor for a physical examination, blood tests and a colonoscopy. Both in their 30s at the time of diagnosis, David McCluskey and Cacy Hupp did just that.
David's Story
David McCluskey of West Des Moines had a colonoscopy scheduled three months after finding blood in his stool. At just 38-years old, no one, not even the GI doctor, was expecting the cause to be rectal cancer. David went on to undergo 28 radiation treatments and 6 months of chemotherapy. Thirteen years later, it's still in the back of his mind, wondering if it's going to come back.
"I see some beautiful families that are just torn apart by this disease and it just weights heavy on me sometimes. It really does," David said.
One such family was that of David Kinman, a fellow colorectal cancer patient that David met during his treatment. Like David, Kinman was young, only 35-years-old when diagnosed with stage IV rectal cancer. After Kinman's death at the age of 37, David and Kinman's family began David's Fight in 2007 in his friend's memory. In 2014, David's Fight became the Colon Cancer Foundation of Iowa (CCFI).
CCFI'S mission is to " build colorectal cancer awareness within our communities through public, physician, and patient education, utilizing a variety of different programs, activities and resources.  Our goal is to provide the resources for those in need of our assistance. "
"I want people to realize that it's the second leading cause of cancer related death. It's such a preventable way to die," David said. He's confident that we'll reach 80%, "maybe even 85%", colorectal cancer screening rates nationally in the next few years.
Cacy's Story
As David was beginning to find his stride as a survivor and advocate, Cacy Hupp was becoming aware of a grape-size lump in her abdomen. With no family history and being well under suggested screening ages, Cacy had to advocate for herself to her doctor in order to get a colonoscopy. The result was stage IV colon cancer that had metastasized to her liver. At 30-years-old, Cacy was given 18-24 months to live.
"Other than just Googling my symptoms, I didn't really know anything about (colon cancer)," Cacy said.
In 2010, Cacy underwent two surgeries and twelve rounds of treatment. The results were very promising. Cacy went on to enjoy five years with no evidence of disease (NED).
In 2015, Cacy's cancer was back. Another successful surgery led to another year NED. Unfortunately, follow-ups in 2016 showed the cancer had spread to her lungs. Cacy continues to be on chemotherapy.
"I don't try to look at anything on a timeline. I just keep going. Every day."
"Advocate for yourself," Cacy recommends. "Don't think that you're too young."
Colorectal Cancer Screening
While the American Cancer Society recommends screening start at age 45 for people with average risk*,  the U.S. Preventive Services Task Force recommends screening starting at age 50.
*For screening, people are considered to be at average risk if they do not have:
A personal history of colorectal cancer or certain types of polyps
A family history of colorectal cancer
A personal history of inflammatory bowel disease (ulcerative colitis or Crohn's disease)
A confirmed or suspected hereditary colorectal cancer syndrome, such as familial adenomatous polyposis (FAP) or Lynch syndrome (hereditary non-polyposis colon cancer or HNPCC)
A personal history of getting radiation to the abdomen (belly) or pelvic area to treat a prior cancer
As we've learned from David and Cacy, your personal health and wellbeing outweighs these standard guidelines. If you're experiencing any of the following symptoms, schedule an appointment with your doctor:
Blood (either bright red or very dark) in the stool
Change in bowel habits
Constant tiredness or anemia
Diarrhea, constipation, or feeling that the bowel does not empty completely
General abdominal discomfort (frequent gas pains, bloating, fullness, or cramps)
Stools that are narrower than usual
Vomiting
Weight loss with no known reason
Join the Iowa Cancer Consortium's Colorectal Cancer Workgroup
The purpose of this workgroup is to inform cancer control partners about the importance of colorectal cancer screening, promote recommended early-detection guidelines to the public, coordinate outreach to specific populations at higher risk of developing colorectal cancer, and having fun while talking about colons!
Questions or interested in joining the workgroup? Contact Rachel Schramm at [email protected].