Iowa Cancer Plan Implementation Grants FY24 Funded Projects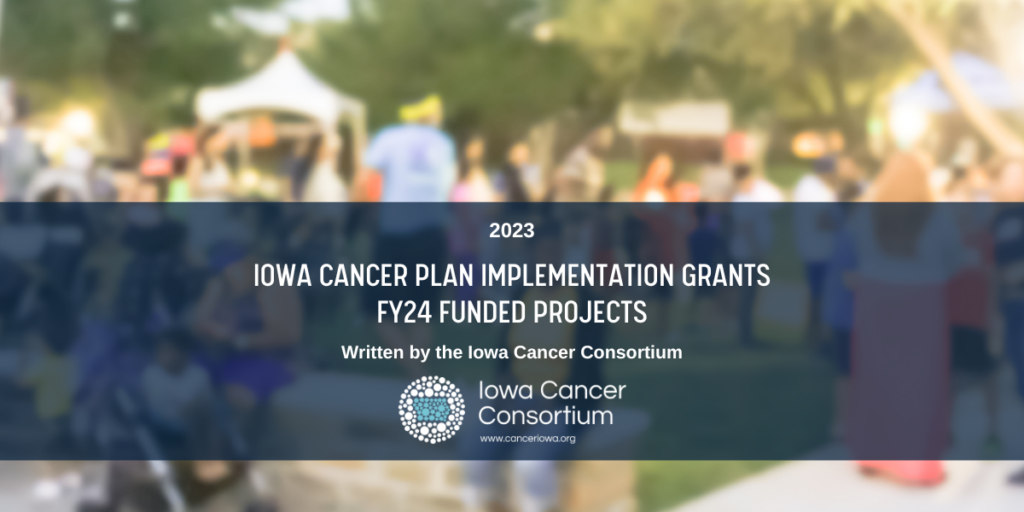 Written by the Iowa Cancer Consortium
Every year, the Iowa Cancer Consortium Board of Directors has the honor of selecting and funding a number of projects that implement cancer control strategies outlined in the Iowa Cancer Plan. It is a competitive process, and dozens of expert external reviewers outside of the state are called on to score applications and provide guidance for the Board. 
For fiscal year 2024 (FY24; July 1, 2023 – June 30, 2024), the Board identified the following priority funding areas:
health equity

issues especially impacted by the COVID-19 pandemic

cancer types that are high/rising in Iowa

statewide expansion of successful projects

policy and systems change
We are excited to announce the FY24 Iowa Cancer Plan Implementation Grant funded projects, detailed below in alphabetical order, and we look forward to supporting their cancer control efforts this year.
Above + Beyond Cancer: Hotel Program
Above + Beyond Cancer is a Des Moines-based non-profit, founded in 2011 by Des Moines oncologist Dr. Richard Deming. The mission of Above + Beyond Cancer is to elevate the lives of those touched by cancer, to create a healthier world.
In 2020, Above + Beyond Cancer re-established the Hotel Program in Iowa that the American Cancer Society was forced to eliminate due to the economic downturn resulting from the COVID-19 pandemic. The Hotel Program works with partnering hotels to provide complimentary and discounted rooms to cancer patients and their caregivers who have financial need and must travel more than 50 miles for cancer treatment and medical appointments.
Since starting the program, Above + Beyond Cancer has been able to provide more than 1,000 nights of lodging to cancer patients in Des Moines, Iowa City, Mason City, Waterloo, Ames, Carroll, and even Rochester, MN. 
In FY24, the Above + Beyond Cancer Hotel Program plans to provide an additional 1,000 nights of lodging to approximately 150 Iowans across 36 counties.
Watch the "Stories from the Iowa Cancer Plan" video highlighting this program.
Crescent Community Health Center: Advancing Cancer Care for Black/African American Iowans (Year 2)
Crescent Community Health Center is a federally-qualified health center (FQHC) located in Dubuque, IA. Their mission is to provide high-quality, respectful, affordable, and comprehensive care to improve the health and well-being of their communities.
In the first year of Iowa Cancer Consortium funding, Crescent hired a Community Health Worker (CHW) and  launched a community health program to advance cancer prevention and treatment efforts for Black/African American community members living in Dubuque, Jackson, Delaware, Clayton, and Allamakee counties. The CHW works one-on-one with patients to coordinate care and also builds relationships through outreach and community involvement.
Over 1,200 Black/African American community members participated in the program in FY23, and 34% of participants were up-to-date on recommended cancer screenings (up 5% from FY22).
In FY24, Crescent aims to grow their program to approximately 1,500 Black/African American participants and increase the percentage of participants who are up-to-date on recommended cancer screenings to 54%.
Focus on Diabetes: Project Health, Prostate Cancer Disparities in Black/African American Men
Since 2015, Focus on Diabetes (a non-profit in Waterloo, IA) has partnered with doctors, health care organizations, and private companies to provide awareness, education, and free screening to diabetic patients, their families, and the community. 
Last year, the organization started Project Health to better understand why Black/African American men in Iowa were being diagnosed with more advanced stages of prostate cancer and had worse health outcomes from prostate cancer than white men in the state. 
After conducting a survey of Black/African American men in Black Hawk County to gauge attitudes and awareness of prostate cancer and general health care issues, Project Health staff and volunteers were able to educate the community and health care providers about the health disparities and possible solutions. 
In FY24, Project Health will expand to Linn and Johnson counties and increase outreach efforts through community events and video production.
UnityPoint Health-Trinity: Colorectal Cancer Screening Outreach for High Risk Underserved Communities (Year 3)
UnityPoint Health-Trinity is a regional integrated health care delivery system including four full-service hospitals in Rock Island and Moline, IL and Bettendorf and Muscatine, IA, with a mission of improving the health of the people and communities they serve.
In collaboration with Gilda's Club of the Quad Cities and other community partners, Trinity has provided education and at-home colorectal cancer screening tests (FIT kits) to the uninsured, under-insured, and underserved Black, Latinx, and LGBTQ+ communities in Scott, Louisa, and Muscatine counties through this Iowa Cancer Consortium funding since FY22. 
In the first two years of funding, Trinity distributed approximately 1,300 FIT kits, with approximately 250 being returned by patients for testing. Of those 250 tests, 19 came back positive, and all 19 patients were followed-up with for further testing and care.
In FY24, Trinity plans to distribute 500 FIT kits and is focused on increasing the number of returned test kits to 24% through community education, engagement, and follow-up.
Watch the "Stories from the Iowa Cancer Plan" video highlighting this program.
---
Congratulations to these four programs! If you're interested in applying for future funding, make sure to sign up for our newsletter. We anticipate that the FY25 Iowa Cancer Plan Implementation Grants cycle will be announced in the spring of 2024.