Celebrating Our 2021 Award Winners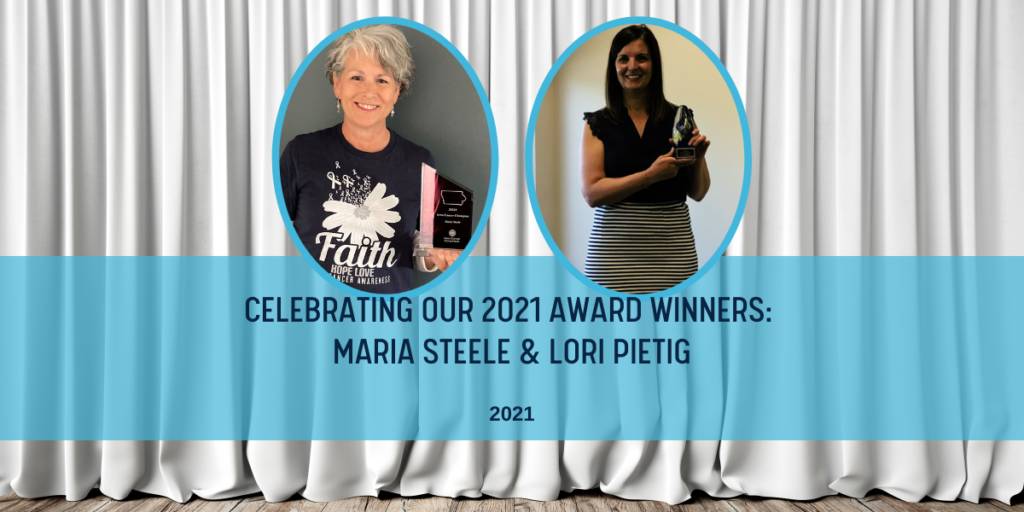 Every year, the Iowa Cancer Consortium invites open nominations for two awards – the Iowa Cancer Champion Award and the Spirit of Collaboration Award. Winners are chosen by the Consortium's Board of Directors and announced at the annual Iowa Cancer Summit. Our 2021 winners have made a big impact on the burden of cancer in Iowa, even during a time when in-person collaboration and connection has not always been possible. If you haven't met them yet, we are pleased to introduce you to Maria Steele and Lori Pietig, our 2021 award winners. (Click here to see the recap of the 2021 Iowa Cancer Summit, including video of the award ceremony.)
Iowa Cancer Champion
This award is given annually to an individual or organization demonstrating a commitment to reducing the burden of cancer in Iowa through work on policy, systems, and environmental change. The recipient may be, but is not required to be, a member of the Iowa Cancer Consortium.
Past recipients of the Iowa Cancer Champion Award include:
2020: Dr. Sharon Duclos
2019: Christine Carpenter
2018: Iowa Army of Pink
2017: UnityPoint Clinics and Dr. Bill Field
2016: Dr. Charles Lynch
2015: Shirley Roof (awarded posthumously)
2014: Senator Tom Harkin
2013: Gail Orcutt
2012: Peggy Huppert
2011: Dr. Richard Deming
2010: Leukemia & Lymphoma Society – Iowa Chapter
2009: Gary Streit
2008: Representative Ro Foege
The Iowa Cancer Champion Award recipient for 2021 is Maria Steele.
From her nominator, Chris Goodale (Above + Beyond Cancer):
"Maria is a cancer survivor who is bringing a great deal of awareness to the value of radon testing. She had a Des Moines Register editorial sharing her cancer story and calling for people to test their homes. Her blog has hundreds of followers where she and her husband Pat educate and entertain with credibility and kindness. Maria and Pat did a session of the Cancer Education Series that was the most popular of all recordings totaling more than 580 views! You can see that video on the Above + Beyond Cancer YouTube channel. Maria has viewed her cancer journey as an opportunity to achieve great feats, such as biking in every state and in every county in Iowa. She is a living example of the positivity and power cancer survivors can share with the world! Maria Steele is a true Iowa Cancer Champion."
Maria was also featured in a widely shared and thorough article written by Ryan Scott for We Are Iowa: The dangers of radon: Protecting yourself in the state with the highest radon concentration.
About Maria
Maria Steele grew up in Granger, Iowa. She has been married to her husband Pat for 43 years and they have 3 children.
Maria is a recently retired Nurse Practitioner who has spent 40+ years in the nursing profession. She graduated from Mt. Mercy College in 1979 with a BSN in Nursing. Over the years she has worked as an RN in critical care and emergency nursing and was named Emergency Nurse of the Year in 1998.
She was in the 2nd graduating class of Family Nurse Practitioners at the University of Iowa in 2001 with a Masters Degree in Nursing.
She joined Iowa Digestive Disease Center in Clive that year as their first Nurse Practitioner. Since that time, the medical specialty group has added 8 additional ARNPs, making IDDC the largest employer of GI specialty Nurse Practitioners in the state of Iowa.
In January of 2020, she was diagnosed with Stage 4 lung cancer due to Radon – she had never smoked cigarettes, nor had she had exposure to second hand smoke. Her new focus is spreading the word that the entire state of Iowa is a danger zone for Radon and that over 70% of Iowa homes are affected. The importance of checking our homes with a simple, inexpensive home test is vital. She is a member of the Iowa Cancer Coalition and participates in many activities through Above and Beyond Cancer.
Her hobbies include bicycle riding with her husband – they biked 3,000 miles across the country together in 2015 and lived to tell about it.
After the Covid pandemic started, they decided to bicycle in every Iowa county and completed that goal in 2020.
This past summer, they also accomplished a long time goal of biking in every state.
She also enjoys sewing and craft projects and taking care of their 1 & 1/2 year old granddaughter, 3 days a week.
Spirit of Collaboration
The Spirit of Collaboration Award honors an Iowan with an outstanding commitment to collaborative cancer control efforts in Iowa. The recipient must be a member of the Iowa Cancer Consortium.
Past recipients of the Spirit of Collaboration Award include:
2020: Kelly Hendershot
2019: Paulette Clark
2018: Kelly Angell
2017: Susan Vileta
2016: Sara Comstock
2015: Cynthia Fiester
2014: Lou Ellen Brown
2013: Gabbi DeWitt
2012: Daniel Hoffman-Zinnel and Judy Morrison
2011: Carol Frazell
2010: Holly Smith
2009: Amber Leed-Kelly
2008: Christy Thurman and Betty Johnson
2007: Karen Packer, accepted posthumously by her husband, Al
The 2021 Spirit of Collaboration Award recipient is Lori Pietig (St. Anthony Regional Hospital Cancer Center).
From nominator, Rachel Schramm (Iowa Cancer Consortium):
"I am not sure the Consortium has ever had a member quite like Lori Pietig. Being new to her position in a brand new cancer center, Lori brings a wealth of knowledge about her community and medical care and openly shares process information about her programs with others across the state – even inviting leaders and staff from other hospitals in Iowa to tour their facility and 'talk shop' about how to bring services to rural areas. Similarly, she is not afraid of taking risks which makes her work full of innovation and growth. From a newly formed clinical trials recruitment program, to lung cancer screening, and enhanced social supports for their patients – Lori makes it look easy! She participates in nearly every meeting focused on rural work and recently became a co-chair of the Rural Cancer Workgroup. We are so thankful to have Lori in our network and look forward to many future collaborations!"
Some of Lori's collaborative work can be seen in these recorded webinars:
About Lori
Lori became the first-ever cancer services director in the summer of 2020 and oversaw the opening of St. Anthony Regional Cancer Center on December 7, 2020. She has served St. Anthony for more than 17 years and also as director of radiology from 2013-2020. Pietig has a master's degree in healthcare administration from Bellevue University and a bachelor's degree in medical imaging from Clarkson College. Lori and her husband Cory have been married for 15 years and have 4 children.