Iowa Cancer Summit
Save the Date!
2022 Iowa Cancer Summit
In-Person in Ankeny, IA & Virtual
Tuesday, October 25th, 2022
To stay updated with sponsorship and exhibiting opportunities and to hear when registration is open, sign up for the Iowa Cancer Consortium's newsletter.
Iowa's statewide comprehensive cancer control conference connects advocates and professionals to network and share promising practices in cancer prevention, screening, treatment, quality of life and health equity.
---
Our theme for the 2021 Virtual Iowa Cancer Summit was Resilience.
The COVID-19 pandemic has required our network to remain flexible while providing critical services, serve as leaders in a time of many unknowns, and like never before, witness the ways our communities and teams connected to one another.
The 2021 Iowa Cancer Summit was curated with members in mind – to reignite your passion for a variety of cancer control topics.
Sessions featured both national and local experts on topics including cancer prevention, state/federal policy change, and getting to know real people who compose the Iowa Cancer Consortium.
Recordings & Resources
Day 1: HPV
Resources:
---
Day 2: Policy
Resources:
---
Day 3: Radon
Resources:
---
Day 4: Ovarian Cancer and Weight Stigma
Resources:
---
Day 5: Resilience
Resources:
---
Awards
Read about the 2021 Iowa Cancer Consortium award recipients on our blog.

2021 Iowa Cancer Champion Award Winner: Maria Steele
This award is given annually to an individual or organization demonstrating a commitment to reducing the burden of cancer in Iowa through work on policy, systems, and environmental change. The recipient may be, but is not required to be, a member of the Iowa Cancer Consortium.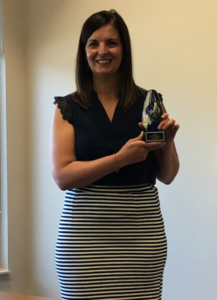 2021 Spirit of Collaboration Award Winner: Lori Pietig
The Spirit of Collaboration Award honors an Iowan with an outstanding commitment to collaborative cancer control efforts in Iowa. The recipient must be a member of the Iowa Cancer Consortium.