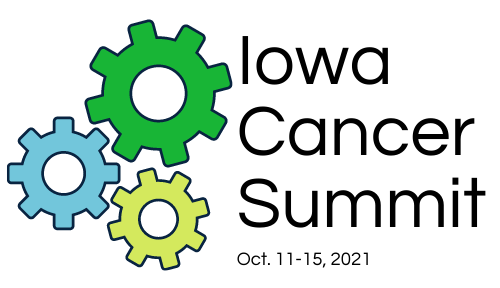 Monday, October 11, to Friday, October 15, 2021
12:00-2:00 p.m. CST via Zoom
Iowa's statewide comprehensive cancer control conference connects advocates and professionals to network and share promising practices in cancer prevention, screening, treatment, quality of life and health equity.
Our theme for the 2021 Virtual Iowa Cancer Summit this year is Resilience.
The COVID-19 pandemic has required our network to remain flexible while providing critical services, serve as leaders in a time of many unknowns, and like never before, witness the ways our communities and teams connected to one another.
We hope you are able to join us for the virtual Iowa Cancer Summit! The program was curated with members in mind – to reignite your passion for a variety of cancer control topics.
Sessions will feature both national and local experts on topics including cancer prevention, state/federal policy change, and getting to know real people who compose the Iowa Cancer Consortium.
Thank you to our Platinum Sponsors:

Thank you to our Gold Sponsors:

Thank you to our Silver Sponsors:

Overview & Objectives
The Iowa Cancer Summit is organized by the Iowa Cancer Consortium, Iowa's statewide comprehensive cancer control coalition. Learn more about becoming a member here.
Following the Iowa Cancer Summit, participants will be able to:
Describe the elements of comprehensive cancer control.
Engage new and existing partners to collaborate on projects supporting the Iowa Cancer Plan.
Identify health disparities within cancer control and develop strategies to address them.
Identify the roles both individuals and organizations can play to reduce the burden of cancer.
Who Should Attend
The Iowa Cancer Summit is an annual event for health educators, public health professionals, community health workers, patient advocates, physicians, nurses, medical leaders, oncology social workers and patient navigators, multicultural leaders, legislators, policy makers, cancer survivors and anyone else with an interest or stake in cancer control.
Sponsorship
The conference is a great opportunity to showcase your organization to cancer control leaders from across the state. The audience includes physicians, nurses, researchers, cancer survivors, caregivers, public health professionals and other cancer control advocates. Learn more about sponsorship here.
Registration
The cost to attend the five sessions for the 2021 Virtual Iowa Cancer Summit:
Category:
Rate:
Members
$20
Non-Members
*Become a member, click here.
$50
Students
$15
*Refund Policy: Registrants must cancel on or before October 7, 2021 to receive a refund.
Awards
Nominations closed on September 17th, 2021. Awards will be presented on Friday, October 15th.
Iowa Cancer Champion Award
This award is given annually to an individual or organization demonstrating a commitment to reducing the burden of cancer in Iowa through work on policy, systems, and environmental change. The recipient may be, but is not required to be, a member of the Iowa Cancer Consortium.
Past recipients of the Iowa Cancer Champion Award include:
2020: Dr. Sharon Duclos
2019: Christine Carpenter
2018: Iowa Army of Pink
2017: UnityPoint Clinics and Dr. Bill Field
2016: Dr. Charles Lynch
2015: Shirley Roof (awarded posthumously)
2014: Senator Tom Harkin
2013: Gail Orcutt
2012: Peggy Huppert
2011: Dr. Richard Deming
2010: Leukemia & Lymphoma Society – Iowa Chapter
2009: Gary Streit
2008: Representative Ro Foege
Spirit of Collaboration Award
The Spirit of Collaboration Award honors an Iowan with an outstanding commitment to collaborative cancer control efforts in Iowa. The recipient must be a member of the Iowa Cancer Consortium.
Past recipients of the Spirit of Collaboration Award include:
2020: Kelly Hendershot
2019: Paulette Clark
2018: Kelly Angell
2017: Susan Vileta
2016: Sara Comstock
2015: Cynthia Fiester
2014: Lou Ellen Brown
2013: Gabbi DeWitt
2012: Daniel Hoffman-Zinnel and Judy Morrison
2011: Carol Frazell
2010: Holly Smith
2009: Amber Leed-Kelly
2008: Christy Thurman and Betty Johnson
2007: Karen Packer, accepted posthumously by her husband, Al.
Continuing Education
Nursing CEUs: An application has been submitted to The University of Iowa College of Nursing. The University of Iowa College of Nursing is an Iowa Board of Nursing approved provider. If approved full time attendance for this program will award 7.75 CEUS.
Certified Health Education Specialist (CHES): An application will be submitted to The National Commission for Health Education Credentialing, Inc. (NCHEC) for continuing education credits.
Non-Discrimination & Accessibility Statement
Non-Discrimination Statement:
The University of Iowa prohibits discrimination in employment, educational programs, and activities on the basis of race, creed, color, religion, national origin, age, sex, pregnancy, disability, genetic information, status as a U.S. veteran, service in the U.S. military, sexual orientation, gender identity, associational preferences or any other classification that deprives the person of consideration as an individual. The University also affirms its commitment to providing equal opportunities and equal access to University facilities. For additional information on nondiscrimination policies, contact the Director, Office of Equal Opportunity and Diversity, the University of Iowa, 202 Jessup Hall, Iowa City, IA 52242-1316, 319-335-07-05 (voice), 319-335-0697 (TDD), [email protected].
Accessibility Statement:
Individuals with disabilities are encouraged to attend the Iowa Cancer Summit and other Iowa Cancer Consortium sponsored events. If you are a person with a disability who requires a reasonable accommodation in order to participate in this program, please contact the Iowa Cancer Consortium in advance at 319-384-1741.