Above + Beyond Cancer Hotel Program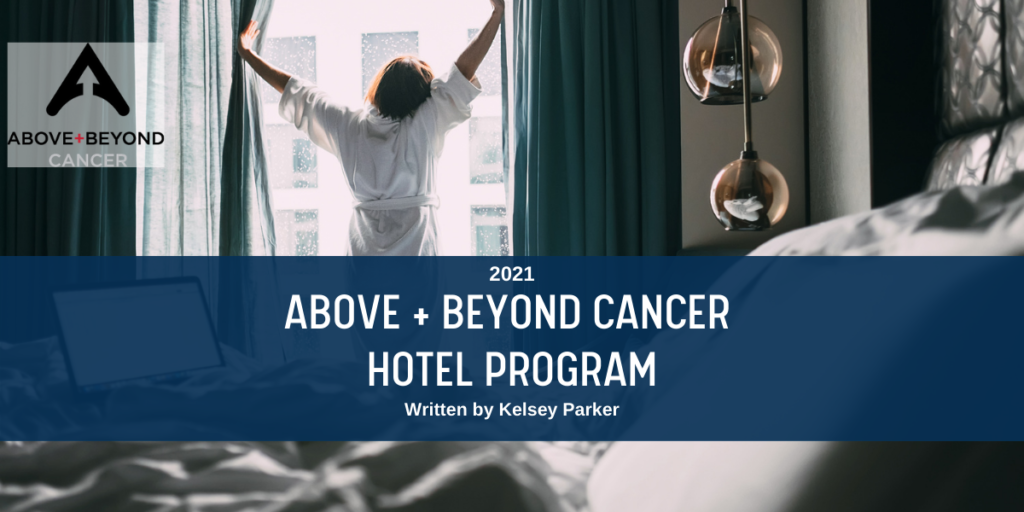 By: Kelsey Parker
Above + Beyond Cancer has one key focus – to elevate the lives of those touched by cancer. Getting the best cancer cares sometimes means cancer patients must travel away from home. Many patients are already paying very high medical bills so supporting cancer patients through the Hotel Program by providing as-needed, as-available complimentary lodging is one way to help them through this difficult time.
Reducing Financial Toxicity
In the United States, an estimated 200,000 cancer patients have to travel more than 40 miles to receive their treatment. In Iowa, almost half of the population lives in rural areas. These rural cancer patients often face additional financial and emotional concerns during an already challenging time. This includes where they are going to stay during treatment and how they are going to pay for it.
In October of 2020, with the support of the Iowa Cancer Consortium, Above + Beyond Cancer began implementing the Hotel Program in order to support cancer patients and caregivers who illustrate financial need, to overcome overnight lodging barriers. This program works with partnering hotels to provide complimentary and discounted hotel rooms to cancer patients and their caregivers who must travel for cancer treatment and medical appointments.
How The Program Works

Above + Beyond Cancer works directly with cancer patients who illustrate financial need, must travel more than 50 miles for their cancer treatment and have cancer treatment protocols that require radiology or chemotherapy over numerous days. Rooms are available Sunday through Thursday nights. Patients must provide as much notice to Above + Beyond Cancer as possible, but not less than five business days prior to the lodging dates. Above + Beyond Cancer then works directly with the hotel partners to make appropriate reservations. We also work hand in hand with a patients' medical team including doctors and nurse navigators to have a complete understanding of each patients needs during their stay.
We know that the outcomes for cancer patients will be more positive if they get as much rest as possible. So there is a direct benefit to the patient to sleep in a comfortable space in between their treatments, rather than driving hundreds of miles each day for treatment. A recent guest had this to say about the program.
"Today was my last radiation treatment, and Above + Beyond Cancer made this an amazing experience. This sickness is emotional also, so the help the organization provided me – with the comfortable hotel close to the hospital, an Uber gift card and gas cards took care of all of my needs, what a BIG BLESSING. This help and support during this hard time of my life has helped me not only physically but also emotionally."
Outstanding Partnerships
The addition of the Hotel Program to Above + Beyond Cancer's offerings has been extremely valuable. The program significantly reduces the stress and anxiety, and the burdens cancer patients experience during their treatment. Above + Beyond Cancer and our hotel partners were thrilled to offer nearly 100 nights of lodging in the first four months of launching the program. The success of the Hotel Program can be attributed to our outstanding partnerships with the following organizations: