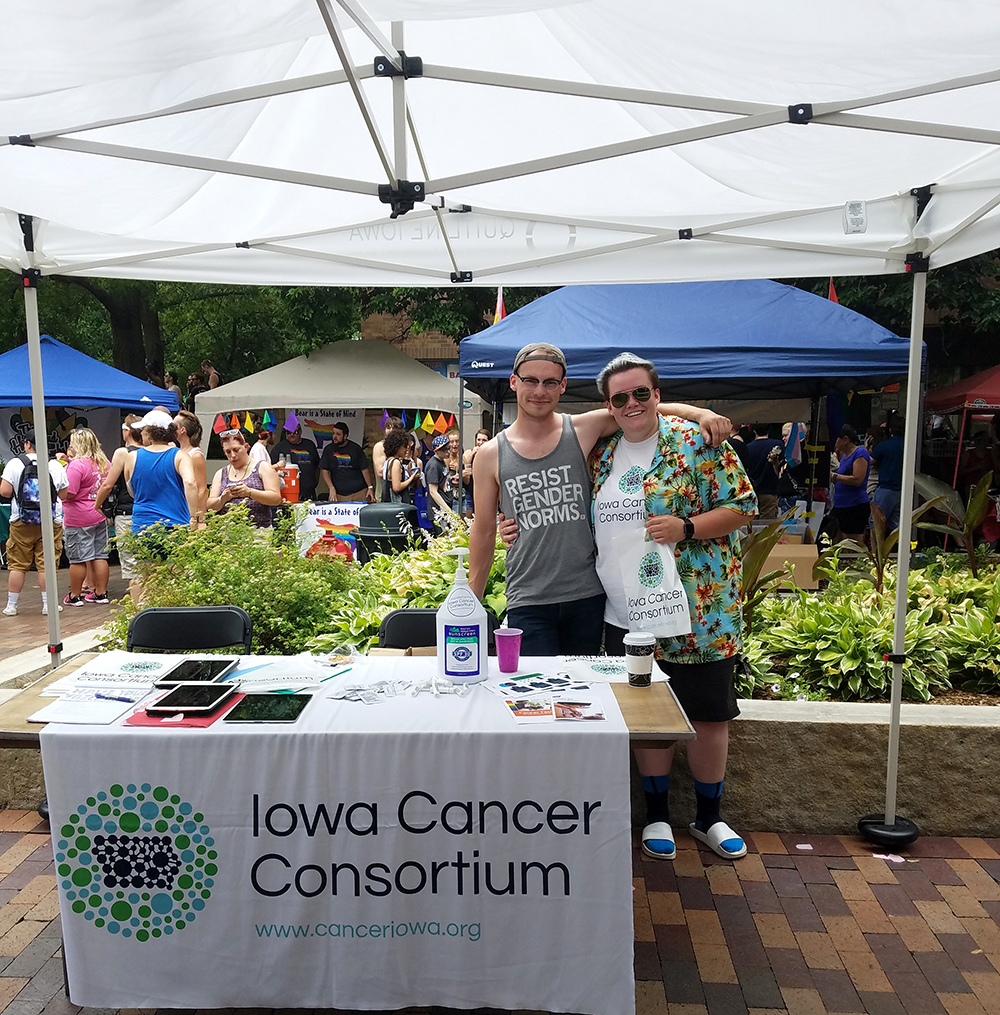 IMPLEMENTATION GRANTS
Want to collaborate to reduce the burden of cancer?
The Iowa Cancer Consortium periodically offers funding and partnership opportunities to support the goals and strategies outlined within the Iowa Cancer Plan.
Funding Opportunities
Annually, the Iowa Cancer Consortium Board of Directors call for projects in support of the Iowa Cancer Plan. The Invitation for Proposals (IFP) process is typically released in early-spring and intends to fund as many collaborative projects which address identified gaps in Iowa's cancer control efforts as possible. Applicants may typically apply for up to $25,000 annually. However, it is important to note that the Iowa Cancer Consortium receives funding from the Iowa Department of Public Health to award and manage community grants. The amount of funding awarded to grantees from year to year is subject to change. To receive notification about these opportunities, join our email list here.
Thank you to all who have applied for the FY21 Invitation for Proposals. Our staff and board are currently reviewing applications and hope to officially announce awards in October 2020.
Consider this!
The Iowa Cancer Consortium (including staff, members, and partners) contains cancer prevention and control experts from within and outside Iowa. And all of them are seeking to connect with new and sometimes unlikely partners who want to make bigger impacts with their work and resources. Community members are encouraged to contact the Iowa Cancer Consortium staff to discuss their project ideas and get connected to other members across the state who might be interested in similar initiatives. Contact us at [email protected].
---
Currently funded projects (2019-2020)
Energy Association of Iowa Schools
School Radon Training & Support System Expansion Project (Year 3)
In the first year of its project, the Energy Association of Iowa Schools helped Iowa schools voluntarily test 12 buildings for radon. In its third year of funding, the total will be over 100 buildings.
University of Iowa Department of Dermatology
Johnson County Sun-Safety Initiative — Sunscreen Dispensers and Education
The new Johnson County Sun-Safety Initiative is supplying free sunscreen dispensers throughout Johnson County. The dispensers will be placed in areas such as the Iowa City Pool, Terry Trueblood Recreation Area and other local events.
After Cancer
All of Me – Prioritizing Sexual Health for Iowans Impacted by Cancer
The overarching goal of this project is to develop and implement self-sustaining education programs for oncology care providers to improve quality of life and the sexual health of Iowans impacted by cancer. The projects third year will implement a multi-site program pilot and the second biennial All of Me conference.
Above + Beyond Cancer
Optimal Living for Cancer Survivors
This project expands Above + Beyond Cancer's programmatic reach within central Iowa through the development of a centralized referral process, funding support for a nurse navigator and increased capacity to provide aquatics, yoga, tai chi, mindfulness meditation, nutrition, and cooking for cancer survivors.
Living Proof Exhibit
Ensuring the Highest Quality of Life for Iowans Affected by Cancer through Art
Based upon over 30 conversations with oncologists, radiologists, nurses, social workers, patients, survivors, and their support teams, Karkinos (Greek word for cancer) is a collaboration between Living Proof Exhibit and the Quad City Symphony Orchestra – the premiere is May 10, 2020. Additional information here.
American Cancer Society
Transportation Improvement Project (Year 2)
In Year 2 of this project, partners including the American Cancer Society, Iowa Department of Transportation, and three collaborating cancer centers in Iowa, build upon the work completed in the year 1 to increase rides to cancer treatment and to leverage partnerships to systematically address transportation as a social determinant of health.
Promise Community Health Center
Sister to Sister – Hermana a Hermana
Promise Community Health Center in Sioux Center has recognized a need to increase access to breast health education, care, and mammography services for uninsured and underinsured women in Northwest Iowa. Their project addresses disparities including cost, language and transportation while providing patient education and increasing access to mammography.
Northeast Iowa Resource Conservation and Development
Reducing Radon Exposure in a Diverse, Rural Community
Many of Postville's residents have moved to the community from far away, and aren't aware that radon exists, let alone aware of the danger of lung cancer from living with high radon levels.Through a grant from the EPA, Northeast Iowa Resource Conservation and Development has worked with community organizations and leaders in Postville to provide free home tests and multilingual information to Postville households. This project expands those efforts by offering financial assistance for radon mitigation in Postville homes, helping people overcome the primary barrier to remediating high radon levels.
INTERESTED IN LEARNING MORE?
We are eager to connect you with information about resources and contacts appropriate to your needs. Drop us a line and we will be in contact shortly.