5 Reasons You Don't Want to Miss the 2019 Iowa Cancer Summit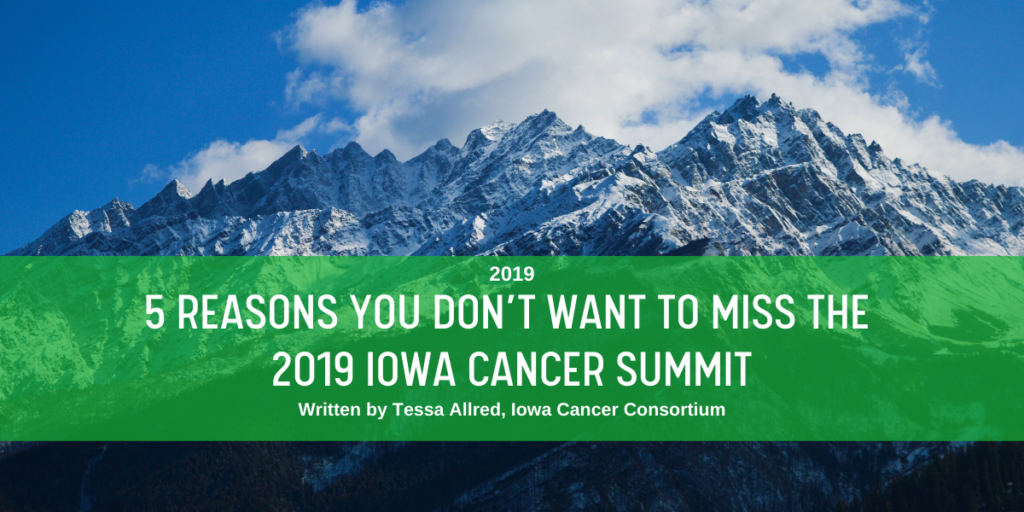 By: Tessa Allred, Iowa Cancer Consortium
Did you know the 2019 Iowa Cancer Summit is only 53 days away?
Believe us, it snuck up on us too! As summer is winding down, Consortium staff have been busy preparing an agenda sure to educate and inspire cancer control work in Iowa.
Each year, the Summit draws a variety of stakeholders from across the state to network and learn about current trends in cancer control and prevention. Last year, nearly 120 attendees had the opportunity to hear from Iowa's policy makers, network with other cancer control professionals and learn about current efforts to reduce the burden of cancer for all Iowans.
This year, the Summit will feature experts in:
Cancer energetics
Clinical trials
Activism
Water quality
Rural cancer control
Cancer disparities
We expect this year to be our highest-attended Summit ever, so you don't want to miss it! 
Here are 5 reasons to attend the 2019 Iowa Cancer Summit:
Learn about differences in rural and urban cancer disparities in Iowa. The communities people live and work in have an impact on health outcomes, and cancer is no different. Challenges across the cancer continuum are very different in rural and urban communities, so solutions need to be tailored appropriately.  Dr. Karriem Watson from the University of Illinois at Chicago will be talking about the differences in cancer outcomes in rural vs. urban communities during his keynote presentation.
Hear from cancer survivors and caregivers. It can be easy to forget just how much a cancer diagnosis can impact someone's life. The Living with Cancer Panel will feature cancer survivors and caregivers sharing their experiences with diagnosis, treatment, survivorship and everything in between. Attendees will have a chance to ask questions and connect with panelists after the session.
Get inspired during the cancer control lightning round. Have you ever wondered why some people choose to work in cancer control and prevention? Or what keeps them motivated to persevere in their work? During lunch, you'll hear from Iowans about what inspires their work in cancer control and prevention.
Meet author (and Iowan!) Dr. Karen Kedrowski. Dr. Kedrowski, Director of the Carrie Chapman Catt Center at Iowa State University,  will be talking about cancer activism and public policy. She is the co-author of Cancer Activism: Gender, Media and Public Policy which discusses how advocacy groups and the media impacted public perception of breast and prostate cancer.
Earn continuing education credits. Are you a nurse or certified health education specialist (CHES) in need of CEU's? When you attend the Iowa Cancer Summit, you can receive continuing education units for your license or certification!
The 2019 Iowa Cancer Summit will take place on Tuesday, September 24th at the FFA Enrichment Center in Ankeny, Iowa. Registration is now available! Click here to register!

What is the Iowa Cancer Summit? 
The Summit is hosted by the Iowa Cancer Consortium, a non-profit that works collaboratively to reduce the burden of cancer in Iowa. The Iowa Cancer Summit is the only comprehensive cancer control conference in Iowa that brings together advocates, public health professionals, healthcare providers, cancer survivors and policy makers to network and learn about promising practices in prevention, screening, treatment, quality of life and health equity.
Summit attendees leave with the ability to:
Describe the elements of comprehensive cancer control, including prevention, screening, treatment and quality of life

Engage new and existing partners to collaborate on strategic projects that support the

Iowa Cancer Plan

Identify

health disparities

that exist in Iowa and develop methods for addressing them within cancer control activities

Identify roles individuals and organizations can play in statewide cancer control
 Who attends the Iowa Cancer Summit?
Attendance is open to the public, so anyone is welcome to attend! Those who attend typically have some stake in cancer control and prevention and may include:
Public health professionals

Cancer advocates

Cancer survivors and caregivers

Physicians 

Health educators

Legislators

Nurses

Patient navigators
How much does it cost to attend the Summit? 
$50 for Iowa Cancer Consortium Members

$70 for non-members

$15 for students