Meet Sara Ternes, Iowa Cancer Consortium Spring 2022 Practicum Student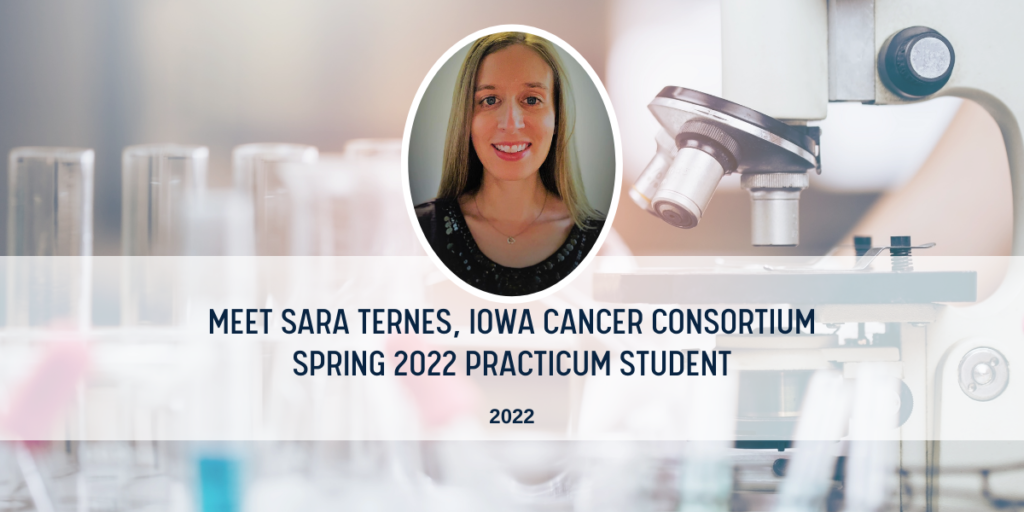 Hello! My name is Sara Ternes, and I am currently completing my practicum experience at the Iowa Cancer Consortium under the direction of Kelly Sittig. I am enrolled at the University of Iowa College of Public Health in the Master of Public Health (MPH) in Epidemiology program, and I will graduate in May of this year. In addition to my studies, I am employed at a local biotechnology company as a research scientist focusing on regenerative medicine, protein bioproduction and cancer research.
After graduating in the Spring, I am looking forward to continuing my academic career this Fall as I will begin to pursue a PhD in Epidemiology at the University of Iowa College of Public Health, focused on Cancer Epidemiology. My goal is to transition my studies to a Medical Scientist Training Program (MSTP) with the hopes of becoming a practicing oncologist.
I have always had a passion for cancer research, so I am thrilled to be able to be working with the Iowa Cancer Consortium to advance their important efforts of providing support and resources for Iowans facing a cancer diagnosis and advancing cancer prevention and control in Iowa.
One of my main projects for the Consortium this semester is coordinating an event for the Research & Clinical Trials Virtual Roundtable series. Clinical Trials 101: Everything You Want to Know About Cancer Clinical Trials in Iowa is a free session on April 21st, 2022 from 12-1pm intended for cancer patients, their caretakers, and the general public. A recording will be made available afterwards on the Consortium's YouTube channel for those who cannot attend.