Iowans Helping Iowans Through SafeNetRx's Drug Donation Repository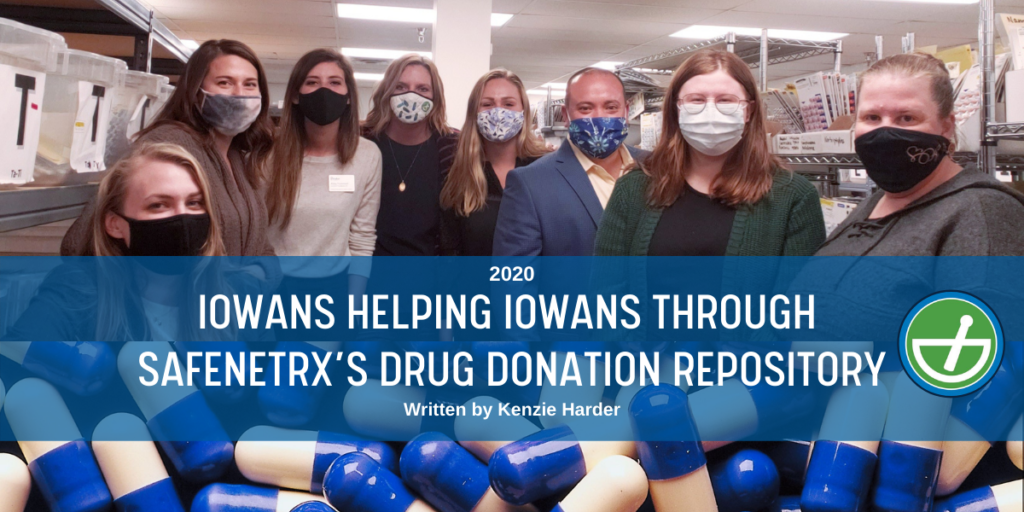 By: Kenzie Harder, PharmD

Iowa is leading the way in helping uninsured and underinsured cancer patients access medications through the Drug Donation Repository at SafeNetRx.
Millions of Americans lack access to affordable care, a number that continues to grow. Twenty percent of the US population is medically underserved. This includes roughly 28 million uninsured persons¹ and 41 million underinsured persons with employer-provided, marketplace or Medicare plans². Over 40% of adults in the U.S. delayed or did not get a needed prescription drug due to cost².
As COVID-19 cases escalate at an alarming rate, more Iowans are having a hard time affording medication. The pandemic has also led to unprecedented job loss, resulting in a significant rise in the number of uninsured and underinsured households. At the same time, hospitals and clinics are facing catastrophic financial challenges, many of which are limiting support for uninsured and low-income patients. These mounting challenges further underscore the need for affordable prescriptions.
Drug Donation Repository

SafeNetRx serves Iowa's most vulnerable patients. Those that are medically uninsured or underinsured with a household income less than 200% of the Federal Poverty Level qualify for assistance. In 2019, the Drug Donation Repository distributed over $7.6 million of medication. Cancer meds tend to be substantially more expensive than most traditional meds, and the start of, or interruption in necessary treatment can be detrimental to patient outcomes.  The program distributed over $2.4 million in cancer medications to qualifying Iowans in 2019.
Due to safety concerns, we accept donated medicines in sealed, tamper-evident packaging for distribution to clinics and pharmacies that provide care to underserved patients. Additionally, donations must pass a rigorous inspection process before being dispensed. Clinics and pharmacies may order needed medications free of charge, once the medication has been inspected by a pharmacist.
SafeNetRx also helps address improper medication disposal and the negative effects it has on our environment. The United States annually wastes an estimated $5 billion worth of unexpired prescription drugs in unopened, tamper-proof packaging³. Research studies have shown active pharmaceutical ingredients are present in groundwater and drinking water as a result of flushing medications down the sink or toilet. Consequently, SafeNetRx has safely redirected over 750 tons of medication for distribution or environmentally safe disposal to date.
Furthermore, donors from nearly all 50 states have worked together to provide over $45 million worth of medications for SafeNetRx to redistribute to over 100,000 Iowans.
In addition to cancer medications, SafeNetRx also accepts most chronic disease state meds including diabetes, behavioral health, hyperlipidemia, hypertension, cardiovascular, and gastrointestinal medication.
Donation Process
Interested in Donating? Follow the steps below:
Step 1: First, collect all medications that are:
3+ months from expiration
Sealed in tamper-evident packaging or unopened (un-sealed amber vials are not accepted)
Non-refrigerated
Non-controlled (click here for a list of controlled substances)
Non-REMS specifications
Step 2: Next, print out and complete the Individual Donation Form
Step 3: Then, box up eligible medication(s) with the completed Individual Donation Form and mail to the below address:
SafeNetRx
11100 Aurora Ave, Bldg 13
Urbandale, IA 50322
Step 4: Finally, dispose of ineligible items responsibly by visiting a local collection site.
Providers interested in improving your community's health by helping your patients access donated medicine should fill out our Participation Form. SafeNetRx will then contact you with more information.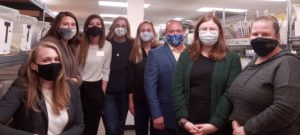 Next year marks our 20th year in operation, and the need to expand the drug donation model has never been greater. Prescription affordability and medication waste are continued, widespread challenges. Therefore, SafeNetRx strives to educate legislators, providers, and patients on the existence and value of drug donation programs. We look forward to serving a growing community of health providers and pharmacists that are committed to caring for patients in need.
SafeNetRx | www.safenetrx.org | Phone: 515-327-5405 | Fax: 515-401-1191
---
¹Berchick, E. (2018, September 12). Who Are the Uninsured. US Census Bureau. Retrieved August 8, 2019, from https://www.census.gov/library/stories/2018/09/who-are-the-uninsured.html
²Garfield, R., Majerol, M., Damico, A., & Foutz, J. (2016, November). The Uninsured: A Primer. Key Facts About Health Insurance and the Uninsured in the Era of Health Reform. The Kaiser Commission on Medicaid and the Uninsured. 11.
³BMJ 2014;349:g7677