HPV Vaccination Completion Rates Continue to Lag Behind Other Vaccinations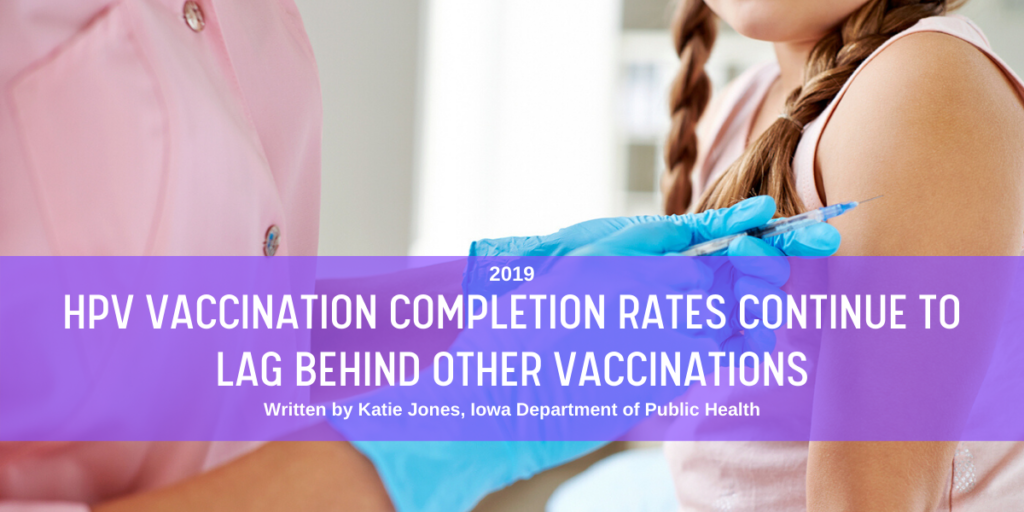 By: Katie Jones, Iowa Department of Public Health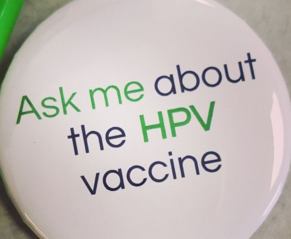 Imagine a world without cervical cancer. In 2019, approximately 2,370 people were diagnosed with cervical cancer in Iowa.1 By contrast, halfway around the world, Australia is on track to nearly eliminate cervical cancer within the next two decades because of the country's strong HPV vaccination rates.2
In Iowa, HPV vaccination completion rates lag behind the completion rate for other recommended adolescent vaccines. In 2018, only 43% of adolescents age 13 to 15 completed their HPV vaccination series.3 Although the rate has increased in the past few years (in 2015, it was only 21%), there is room for improvement. A strong health care provider recommendation of routine HPV vaccination is the most evidence-based solution to increase vaccination update.4 Research has shown recommending HPV vaccinating in the same way and on the same day as all adolescent vaccines is very effective.
A strong recommendation for the HPV vaccine sounds like this: "Your son is 11 years old and is due for vaccinations today to help protect him from meningitis, HPV cancers and whooping cough. Do you have any questions?"
HPV Vaccine Prevents Certain Cancers
The HPV vaccine helps prevent six types of cancers: cervix, vagina, and vulva, penis, anus and back of the throat, including the base of the tongue and tonsils (oropharynx). While screening is available for cervical cancer, there is no screening for the other cancers caused by HPV infection. The HPV vaccine is very safe and effective for males and females. The CDC recommends all 11- to 12-year-olds receive two doses of HPV vaccine 6 to 12 months apart. A three-dose schedule is recommended for teens and young adults who start the series at ages 15 through 26.
All team members at a health care office, including at the front, should be aware of the HPV vaccine's importance. They should be educated on proper vaccination practices and recommendations, ready to answer parents' questions, and/or regularly remind and recall parents. Staff can regularly check immunization records, place calls to remind families about getting vaccines and let health care providers know if parents have additional questions.
Importance of Completion Rates
Knowing the HPV vaccination completion and refusal rates among the patients can be helpful for tracking progress. Health care providers can print reports specific to their clinics through the Iowa Immunization Registry Information System (IRIS). These reports compare the clinic's HPV vaccination rates to the county and state rates.
HPV Workgroup
There are many resources out there to help increase the HPV vaccination rate in a health care setting. The Iowa HPV Workgroup is a collaboration of public health professionals, cancer survivors, researchers and health care providers working together to increase HPV vaccination rates across the state. The workgroup has created a resource guide for health care professionals. This guide includes tips and resources on how to give a strong recommendation for the HPV vaccine.
The workgroup is facilitated by the Iowa Cancer Consortium and meets regularly via webinar. Interested in collaborating with the Iowa HPV Workgroup? Contact Tessa Mills at [email protected] or 319-467-4569.
---
1Iowa Cancer Registry. (2019). Cancer in Iowa. Retrieved from https://shri.public-health.uiowa.edu/wp-content/uploads/2019/03/Cancer-in-Iowa-2019-report.pdf.
2 Hall, M.T.; K.T. Simms; J.B. Lew; M.A. Smith; J.M.L. Brotherton; M. Saville; et al. (2018). The projected timeframe until cervical cancer elimination in Australia: a modelling study. The Lancet Public Health. 4(1): PE19-E27. https://doi.org/10.1016/S2468-2667(18)30183-X
3Iowa Public Health Tracking Portal. (2019).  Immunization in Iowa. Retrieved from https://tracking.idph.iowa.gov/Health/Immunization. 24 June 2019.
4Hswen Y. et. al. (2017). Improving Physician Recommendations for HPV vaccination: The Role of Professional Organizations. Sex Transmitted Diseases, 44(1), 42-47.