Above + Beyond Cancer: Expanding & Transforming Lives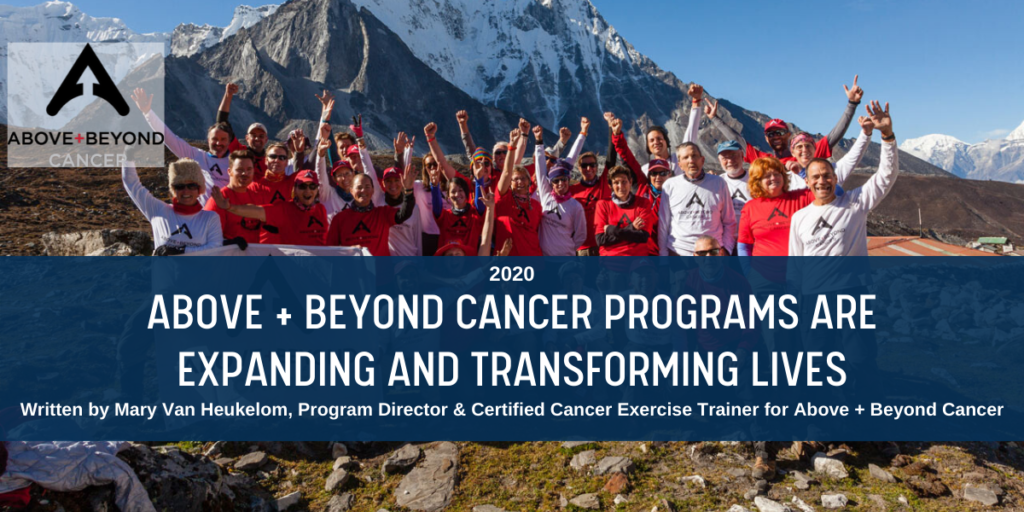 By: Mary Van Heukelom, Program Director and Certified Cancer Exercise Trainer for Above + Beyond Cancer
"Living with 'maybe-maybe not' can be hard. I was frustrated, out of shape, and feeling low. I needed this program to be strong again. My mind, body, and soul were a bit broken. I yearned to be around people who understood living with cancer, so I could put my guard down. Above + Beyond Cancer turned my fear and sadness into hope and happiness." — Three-time cancer survivor
Above + Beyond Cancer is a non-profit organization dedicated to elevating the lives of those touched by cancer to create a healthier world. Dr. Richard Deming founded Above + Beyond Cancer in 2011. Dr. Deming is Medical Director for the MercyOne Cancer Center in Des Moines. He is a nationally award-winning oncologist and philanthropist. Dr. Deming is known for his compassionate approach to care, which includes warm hugs, inspirational messages, and a determination to offer each survivor a path to optimal living. Dr. Deming is also Board Chair for the American Cancer Society's Cancer Action Network (ACS CAN), leading the charge for legislative change and research, and is vice president of the Iowa Cancer Consortium's Board of Directors.
Origin Story
Initially, Above + Beyond Cancer focused on medical missions and transformational journeys. Survivors and caregivers traveled to the Himalayas, South America, and Africa. In fact, we have partnered with the American Cancer Society (ACS) to complete the first international Hope Lodge in Africa.
Since 2014, Above + Beyond Cancer has led the Optimal Living for Cancer Survivors Program. This program enhances all aspects of the human dimension: mind, body and spirit. Instructed by medically trained staff, this evidence-based program is free for all cancer survivors.  All of the metro YMCA branches and the MercyOne Health and Fitness Center host the program weekly.
"I feel so lucky to have this program in Des Moines. A program that connects survivors and focuses on what we CAN do. " — survivor
Improving Quality of Lives
Our programs in 2019 hit new records. Thirteen different evidence-based medical programs are offered weekly in partnership with the YMCA, Community Health Partners, and MercyOne. Oncologists and nurses from metro hospitals and clinics are referring their survivors to the Optimal Living Program. Research-based classes include: Total Training, Healing Yoga, Mindfulness Meditation, Moving Meditation, Walk With Ease, Chair Yoga, Aquatics, Tai Chi, Ai Chi, Survivor Recovery and Beyond, Indoor Cycling, Nurse Navigation, Wellness Coaching, and a Cancer Education Series.
"The program offers personal attention, effective advice, helps set attainable goals that builds confidence and ensures progress. Classes meet everyone's limitations yet doesn't hold anyone back. I love it." — survivor
In 2019, the Iowa Cancer Consortium awarded Above + Beyond Cancer grant funds allowing us to:
Enhance Nurse Navigation services
Purchase equipment for expanded classes
Offer innovative trainings for staff
Extend our geographic outreach through our podcast series
Serve more survivors
Qualitative Survey Results from an Anonymous Poll of Survivors
| | |
| --- | --- |
| 93% | Improved overall physical health |
| 87% | Supported me in making and reaching healthy goals |
| 87% | Improved balance |
| 77% | Improved strength |
| 77% | Improved range of motion |
| 74% | Increased endurance |
| 72% | Increased level of hope for better health |
| 70% | Helped manage stress |
| 70% | Improved overall mental health |
| 68% | Boosted my self confidence |
| 67% | Increased level of energy |
| 58% | Improved overall spiritual health |
Program
Our Optimal Living Program serves cancer survivors and anyone interested in preventative health and connection with self, others and nature. Last year our Adventure Fitness Program led survivors and caregivers snowshoeing, canoeing, and hiking through Jester Park.
Cycle Club, Book Club, and the Nutrition and Cooking Classes had record participation. These programs resulted in exploration of local trails, our minds, and our taste buds!
"If ABC has taught me anything, it is to push yourself and try new things. I participate in their canoe trips, hikes and bike rides. I would not be doing these things if I hadn't discovered Above + Beyond Cancer." — survivor
We at Above + Beyond Cancer are grateful for our community of support, donors and volunteers. Without our sponsors, and grants like the one from the Iowa Cancer Consortium, we would not be able to fulfill our mission of "elevating the lives of people touched by cancer."
To get involved in Above + Beyond Cancer programs,  you may contact Mary at [email protected] or visit aboveandbeyondcancer.org.