Sun-Safety Community Project Awardees & Special Meaning for Greene County Skin Cancer Survivor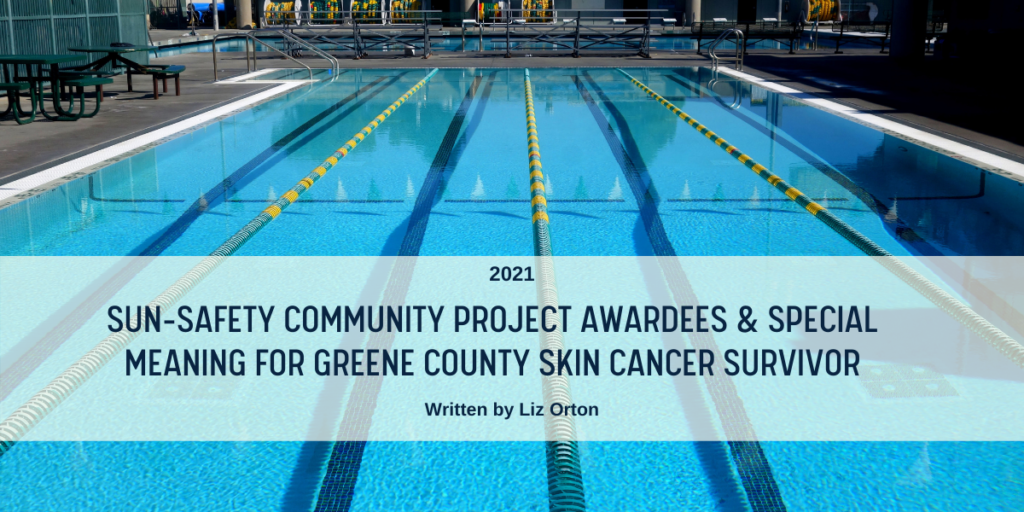 Written by: Liz Orton
Every summer since 2014, the Iowa Cancer Consortium has provided free sunscreen through our Sun-Safety Community Project program. After cancelling the 2020 program due to COVID-19, the Consortium was excited to accept applications for summer 2021 last May!
This year, the Consortium distributed 62 gallons of SPF 30 sunscreen to 23 organizations. (Click here for the complete list.)
For one Consortium member, this year's Sun-Safety Community Project turned personal with an unexpected diagnosis.
Skin cancer hits home for one Consortium member…
Becky Wolf, BS, RN-BC, is the Director of Greene County Public Health at Greene County Medical Center. She has led Greene County's Sun Safety Awareness Projects since 2016. However, this year's project holds new meaning for Becky.
About two years ago, Becky noticed a "pearly papule" along the crease of her nose. Over time, it grew to a half inch in diameter. She had another spot on her nose that was harmless, so this new mark didn't concern her.
Like many people, Becky missed her annual dermatology appointment due to the COVID-19 pandemic. But in April 2021 she went back to the dermatologist for a routine skin check. The doctor didn't think the papule was "nothing."
After a biopsy and a referral to a specialist, Becky received the diagnosis of basal cell carcinoma of the nasal side wall.
The doctor performed Mohs surgery, a procedure done in stages, including lab work, while the patient waits. The surgery was successful! It removed all of Becky's cancerous cells.
"The seriousness of my skin cancer didn't hit me until I saw the deep cavity extending into the nasal cartilage," Becky said. After the Mohs surgery, a skin flap covered the area.
A new purpose…
During the closure procedure, Becky says she "sheepishly" admitted her involvement in establishing Greene County's Sun Safety Project through the Iowa Cancer Consortium. "How could I have missed such an obvious warning sign of skin cancer?"
She adds that sun damage replacing the freckles on her face was another warning sign she missed.
Skin Cancer Warning Sign Resources:
"Did I dodge a bullet? Yep, and only NOW, at 61 years of age, I'm faithfully wearing sunscreen and wide-rim hat, in fear that I will: 1) Develop damage along my incisional line, and 2) have to repeat a Mohs surgery for this preventable health condition!"
"A new life mission is in place," Becky stated, "To educate the public about the real-life risks (including disfigurement and death) of skin cancers by sharing my story."
Skin cancer by the numbers…
Skin cancer is diagnosed in the United States more than all other cancers combined. In Iowa, the incidence of melanomas of the skin (the deadliest form of skin cancer) is on the rise. Sadly, the American Cancer Society estimates that 90 Iowans will die in 2021 from melanoma.
According to the Skin Cancer Foundation, 20% of Americans will develop skin cancer prior to age 70 – that's 1 in 5 people. Furthermore, having five or more sunburns throughout your life doubles your risk for melanoma. But there's something everyone can do to lower their risk for skin cancer: Wear sunscreen!
If you'd like to learn more about the Iowa Cancer Consortium's Sun-Safety Community Project sunscreen program, please contact Liz Orton ([email protected]).
2021 Sun-Safety Community Projects:
| Organization | Project Name |
| --- | --- |
| Appanoose County Public Health | Sunscreen for Appanoose County Organizations |
| Bristol Myers Squibb and Trinity Regional Oncology Clinic Ft. Dodge | Sunscreen and Sun Safety Stop - Ft. Dodge RAGBRAI |
| Beekman's Homemade Ice Cream | RAGBRAI Route |
| Calhoun County Public Health | DON'T FRY… APPLY! |
| Cancer Crusaders Sun Safety | USSSA Nationals Youth Softball Tournament (Des Moines and Quad Cities) |
| Cedar Rapids Parks & Recreation | Sun Safety on the Farm |
| City of Adel Parks & Recreation | Adel Family Aquatic Center |
| City of Marion | 6th Annual Marion Sun Safety Project |
| Ft. Dodge Convention/Visitors Bureau | CoverFD101 |
| Gilda's Club Quad Cities | Gilda's Club Quad Cities Summer Sun Safety |
| Greene County Public Health | 2021 Greene County Sun Safety Awareness Project |
| Henry County Public Health | Sun Safety in Henry County |
| Linn County Public Health | Sun-Safety at the Ballpark (Cedar Rapids Kernels) |
| Madison County Public Health | Staying Cool without the Burn |
| Marshalltown Parks & Recreation | Marshalltown Family Aquatic Center |
| Mills County Public Health | SunWise and POOL COOL Communitywide Educational events |
| Peoples Community Health Clinic | National Health Center Week 5th Annual Big Tent Event |
| Pottawattamie County Public Health | River Riot Concert Series Sun Safety and Cancer Prevention Project |
| St. Anthony Regional Hospital | Supporting Carroll Area Child Care Center to Promote Sunscreen Awareness |
| Trinity Regional Medical Center | Be Sun Safe |
| VGH Health Care Foundation | Party in Pink 5K Walk/Run & Party in the Park 2021 |
| Wayne County Public Health | Sunscreen for the Kiddo's |
| WDM Parks & Recreation | Sunscreen at West Des Moines Parks & Recreation Aquatic Centers |