Welcome New Board Members and Officers!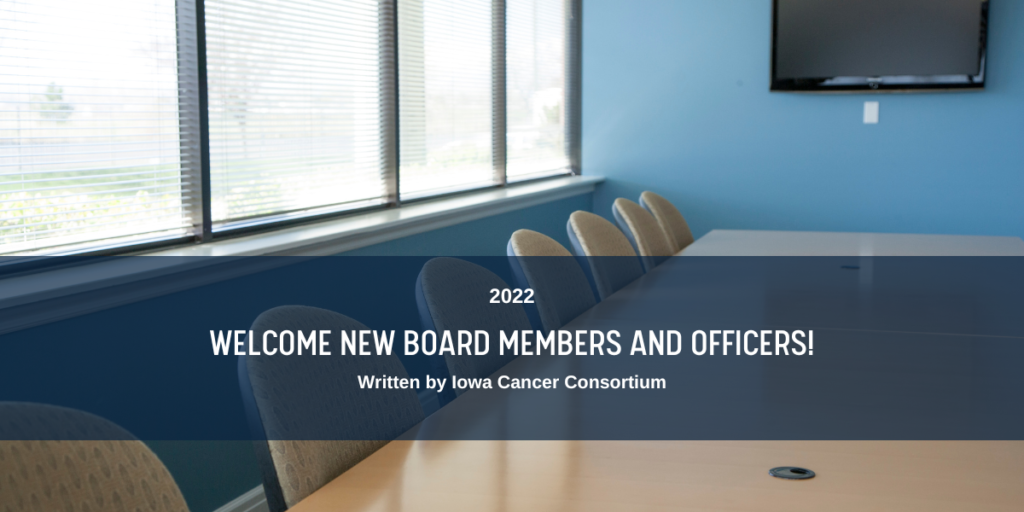 Board members bring their experiences, expertise, and passions to the table to develop and implement priorities, policies, and principles that make the Iowa Cancer Consortium what it is – a strong, skilled, collaborative network of cancer control advocates and professionals. As we begin a new fiscal year, we would like to thank our outgoing board members and welcome our newest members to the board of directors.
Note of Thanks
A special thank you to outgoing members Tami Swenson and Bobbie Bohnsack for their time and dedication to the board. We would also like to recognize Dr. George Weiner for his 20 years of leadership as he transitions to an Immediate Past-President role on the Board.
New President
The Iowa Cancer Consortium is pleased to announce the election of Dr. Mary Charlton as the new President of the Board of Directors, effective July 1, 2022. Dr. Charlton has served on the Board for eight years and is currently co-chair of the Rural Cancer Workgroup.
Dr. Charlton is an Associate Professor in the Department of Epidemiology at the University of Iowa College of Public Health, the Director of the statewide Iowa Cancer Registry, and Co-Leader of the Cancer Epidemiology and Population Science Program in the Holden Comprehensive Cancer Center. She has conducted numerous studies of cancer risk factors, outcomes and disparities in access and quality of cancer care. A current focus area of her research is to engage providers, administrators and staff in community hospitals/clinics in research designed to address the challenges of providing high-quality, comprehensive cancer care in rural areas.
New Officers
Welcome to the following new officers:
President, Mary Charlton, PhD
Immediate Past-President, George Weiner, MD
Treasurer, Christen Sewell, MHA
Meet the New Board Members
Interested in learning more about the entire board of directors? Visit https://canceriowa.org/aboutus/board-of-directors/.