Tips for Social Distancing Outdoors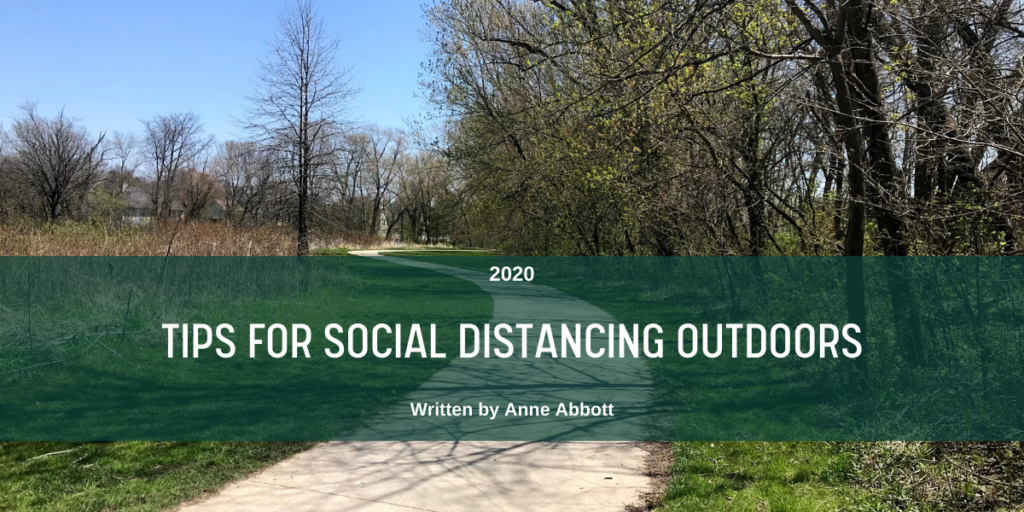 By: Anne Abbott
Physical activity has been linked with a range of benefits to physical and mental health.  One of the benefits most recognized by Iowa Cancer Consortium members is that regular physical activity has been found to decrease risk for a range of different cancers including highly prevalent cancers like breast and colorectal. This link between physical activity and cancer is exactly why the Iowa Cancer Plan features primary prevention goals around physical activity. In short, we know physical activity is important!
We also know that springtime in Iowa means lots of us would rather be doing our physical activity outside rather than in! The days are longer and warmer. Walks, runs, and bike rides all become more scenic. Gardening becomes possible. Hikes in county or state parks also start to seem really appealing. For those with children, outdoor spaces like trails, playgrounds, and sports fields provide places for kids to socialize AND burn off energy (sidenote: I do not have kids, but I have been told by 'those who know' that the burning off energy part is essential 😊). Warmer weather also provides more opportunities to just enjoy being outdoors which has been shown to have positive effects on mental health.
However, because of COVID-19, it is more important than ever that those of us who use outdoor spaces likes parks, trails, and even sidewalks, do so responsibly. It can be tempting when the sun is shining, and the weather is warm to engage in a little escapism and try to forget about the pandemic going on around us. Trust me, I get it. However, being outside does not mean we get to just toss out the CDC's recommendations about maintaining six feet of social distance.
Whether you are an experienced parks and trail user or someone who is newer to these spaces, you need to be thinking about those around you when you (and others in your household!) are using outdoor public spaces. This might sound daunting, but there are some simple tips that can help folks keep themselves and others healthy when they are spending time outside. Below are some tips that can help you and those in your household keep yourself and your neighbors healthy!
If you got it, flaunt it.
By 'it', I mean your yard and outdoor property. Not everyone has a giant yard to escape to, however many do have outdoor spaces like decks or balconies and yes, even yards (however small). These spaces can provide access to sunlight for both you (don't forget the sunscreen!) and plants, a change of scenery from whatever home office you have had to throw together, and places for pets, kids, and you to get active without running into other people. Try smiling and waving to a neighbor while you are out, its surprisingly easy to do!
Give new-to-you and less-busy routes a try.
Iowans are lucky to have a variety of parks and trails many of which can get crowded in the warmer months. If you're a biker, you may be able to avoid heavily used trails all together by biking on the road (don't forget the rules of the road though!). If you're on foot, try a new route on the sidewalk of a new neighborhood. If you're going for a hike in a county or state park call ahead to see what trail traffic is like. If you get to a trailhead and its packed, turn around and try somewhere else or just pick an activity to do at home.
Be smart about timing!
You can likely beat crowds by using parks/trails /paths and even neighborhood sidewalks during times of the day when not as many people are out and about. Early morning or late evening are good bets, but this may vary locally so adjust as needed.
Let people know you are going to pass them and use a wide pass when you do!
We all need to get in the habit of letting other trail/path users know where we are. I have been told in the last couple weeks that this isn't just good pandemic advice it's 'just good trail etiquette' generally. I totally agree, but NOW is a great time to start doing this even if you haven't in the past. Let people know before you pass them by saying "On your left" or "On Your Right". When passing you can use the surrounding grass, the other side of the path (if its wide enough) or trail, or even the street depending on where you are (LOOK BOTH WAYS BEFORE YOU DO THIS!). Again, try a wave and a smile while doing this!
Stay single file when trails/paths/sidewalks are busy!
Avoiding busy areas is key, but if you're on a path or trail and you start running into a lot of other people it's important that everyone in your group is considerate. Walking, biking, or scootering two-, three- or four-wide down a trail may be fun for you/your family, but you are preventing others' ability to maintain six feet of distance. Yes, I have had personal experience with a merry band of scooter riders in Iowa City's Willow Creek Park, thank you for asking!
Avoid gatherings and groups for now.
Do not use spaces like park benches, picnic shelters, or even the grass to hold social gatherings with people you do not live with. Even if you are six feet apart this is a no go. You and those you live with should also avoid sports and games with individuals from outside your household. That means no park playdates (in addition to no home playdates). While we are still learning the intricacies of how COVID-19 spreads, we do know that being near other people for an extended period is one of prime routes of transmission. So for now, we have to avoid activities that put us into contact with those outside our household as much as possible.
Use a mask as much as you can.
The CDC recommends that everyone over the age of 2 wear a mask when they are in public. This might feel uncomfortable or weird at first, but the chances that you transmit COVID-19 to another person go down when you have a mask on.
These tips may not all be fun to follow (or enforce if you're a parent), but they are mostly easy to do! Outdoor spaces offer options for exercise and recreation, but they must be used responsibly to limit the spread of COVID-19. We owe it to our friends, neighbors, and communities to do whatever we can to stop the spread.
Materials and resources for communities interested in implementing what those of us in public health refer to as "cues to action". Cues to action are just simple reminders of how and when to engage in a health behavior (for the public health nerds out there, should out to the health belief model). If you are interested in using these materials in your local park, feel free to get into contact with me [email protected]. The CDC also has handy facts sheets on using parks facilities.