Soulful Healing Yoga for Breast and Chest Cancer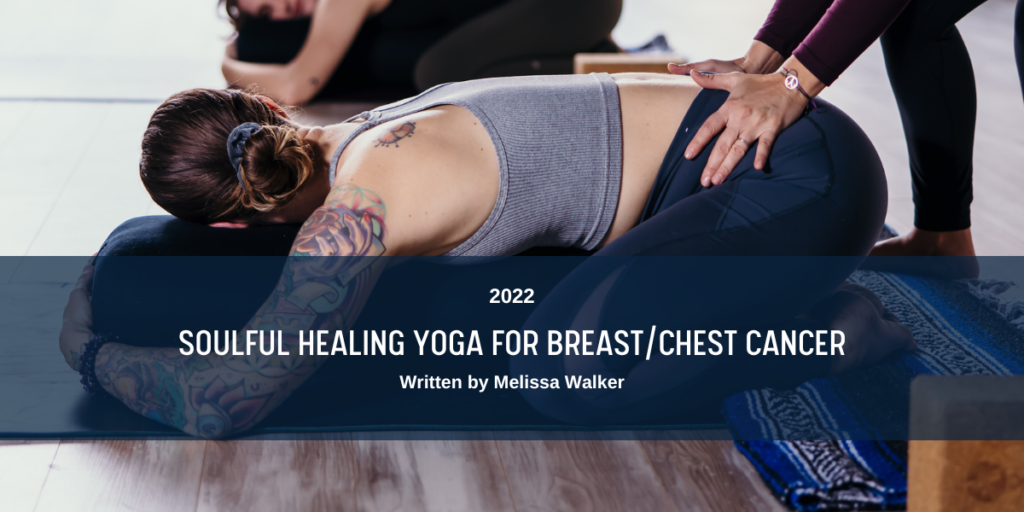 By Melissa Walker
I am Melissa, a yoga practitioner, teacher, and creator of Soulful Healing Yoga in Des Moines, Iowa.
Many years ago as a writer, I shared the stories of breast cancer survivors. Coincidentally, I was also starting my own journey as a yoga teacher. When those I was interviewing learned about yoga – each said "I'd love to do yoga, but …" There was some sort of barrier or hindrance for them.
This weighed in the back of mind and in my heart for several years. I continued to gather knowledge and experience and now it has led me to this place of yoga service. In the practice of yoga, we are guided toward our path of purpose – and I believe this is mine.
My role as a yoga teacher is to ensure anyone who wants access to yoga has it, and I wanted to start with this incredible group of human beings.
Soulful Healing Yoga is a nonprofit that uses the practice of yoga and its elements of meditation, breathwork, and movement to aid in recovery from the effects of breast and chest cancer and its treatment, not only on the body, but the mind, spirit, and heart. Overall, Soulful Healing Yoga is a place for a person to come and focus on themselves and leave everything else behind.
Why yoga?
Movement is good for the body and yoga postures can help stimulate and elongate muscles, enhance blood and lymphatic flow, and boost the body's internal purification processes.
How is yoga beneficial for Breast/Chest cancer?
Yoga is especially good for those with breast and chest cancer because it can be performed throughout the treatment, surgery, and recovery process. Gentle movement can allow the student to learn about their changing body – a body that might feel completely new to them. Its practice can offer several ways to understand one's inner strength, and it addresses the physical and emotional afflictions experienced with breast and chest cancer.
Why meditation?
Our thoughts are always there and learning some tools to bring perspective and presence to those thoughts can be critically important. Anxiety and uncertainty were two words that continuously came up when I was both talking with cancer survivors, as well as in my own research. This program will provide some tools to establish mindfulness.
Why restorative yoga?
This particular style of yoga is really rooted in supporting the health of the body and the brain – rewiring functions of the nervous system – the ability to reduce stress and process it; boost the immune system; reducing muscle tension – a sense of completely being able to let go; providing tools to learn how to relax and self-soothe.
Why is this important for someone with breast or chest cancer?
Bringing people back into their body in the present moment is so critical. With this practice, people will learn those meditative tools to calm the mind by enhancing the parasympathetic nervous system, which is responsible for the calm, peaceful feeling we experience. Thus, allowing the person to heal deep down into the soul of their being. A person is so much more than the shell on the outside, and this program really aims to provide comfort in the body, mind, and spirit.
How much does it cost to attend a class?
At Soulful Healing Yoga, every class is free. I never want financial worry to prohibit someone from participating and caring for themselves. This yoga program is donation-based, and I have been seeking funds through donations and will be applying for some grants.
What should someone expect in a class?
Each class has been carefully created with guidance from physicians, physical therapists, breast and chest cancer survivors, and yoga practitioners and teachers who are survivors. There will be elements of meditation, breathwork and appropriate physical movement in each class. Some classes are 45 minutes; some are an hour – you are asked to stay the entire time. If you need a break, please know there is seating in a back room where you are more than welcome to sit and take time if you need. Classes will involve seated and reclined postures; others will have standing movement. Some classes will offer a chair if desired. Participants are encouraged to adapt for themselves, and myself or another teacher will always be present to offer customizations.
Does someone need to have previous yoga experience?
No! All classes are prepared with all levels of participants in mind. Your teacher will be there to guide with verbal cues and will take part in portions of the class with you to demonstrate postures. You will be bare foot or sock-footed during your class – your choice!
How can I attend?
Classes start in December 2022 and will take place at Yoga & Co., 2326 University Ave., in Des Moines. There is street parking in front of the building and some parking in the back. If you are interested in learning more or attending a class, you can find the details at soulfulhealingyoga.com.
---
About the Author
Melissa Walker is a 500-hour E-RYT certified through Yoga Alliance with years of experience teaching private and group classes. She mentors yoga teachers and has assisted with yoga teacher training programs. Melissa uses her training in restorative, yin and vinyasa yoga, along with special attention to trauma-sensitive yoga, grief yoga and yoga for our first responders to cultivate a healing experience on the mat, whether it be in body, mind, or breath – ideally, all of the above. She is very passionate about spreading the benefits of yoga and making it accessible to all.
When she is not on her mat as a student or teacher, Melissa works as a public relations consultant and freelance writer, editor, and researcher. You can also find her with her husband, two children and their rescue dog Zeke. Melissa is an avid reader, podcast-listener, traveler, mentor, water quality advocate, and a volunteer with AHeinz57's Puppy Patrol.