Position Description: Communications Contractor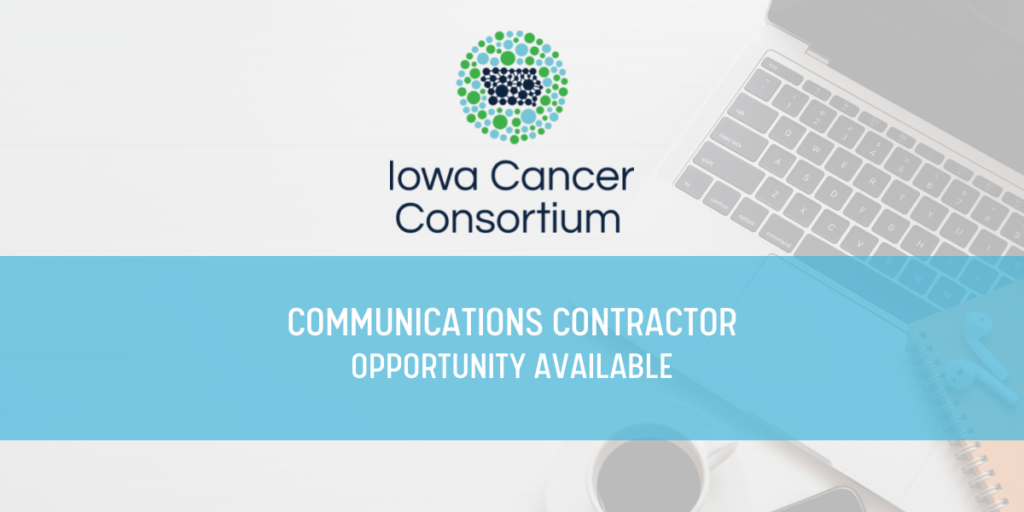 Download Position Description as a PDF
The Iowa Cancer Consortium is a statewide coalition working to advance cancer prevention and control in Iowa through advocacy, equity, and collaboration. As a leader in cancer control, the Consortium helps health care providers, public health professionals, cancer survivors, caregivers, researchers, volunteers, and advocates access resources, expertise, and non-competitive collaboration for a bigger impact in cancer prevention, early detection, treatment, quality of life, and health equity. The Consortium believes access to cancer services and outcomes should not depend on race, creed, color, national origin, age, ability, sex, sexual orientation, or gender identity.
The Consortium is accepting applications for a Communications Contractor – individual or organizational – to provide communications support and implementation for the organization. This contracted position is for eight hours per week (number of hours is moderately negotiable). Work hours are flexible but will include at least one weekly team meeting. The position ends on June 30, 2022, with the possibility of annual extension based on ability to meet contract deliverables, organizational and community needs, and available funding.
Location
Work may be primarily remote, but occasional local and in-state travel is required. On-site office space is available in Coralville, Iowa, based on contractor preference.
Compensation
The Communications Contractor position is compensated at a rate of $31.25 per hour.
If needed, the Consortium will also provide a laptop computer or tablet and webcam for the duration of the contract.
Responsibilities
Represent the Consortium in alignment with its brand guidelines and values.
Develop monthly social media message sets for our members that address cancer control, awareness, and observances.
Write/coordinate two blog posts per month.
Create original, branded graphics for social media.
Develop evergreen content for the Consortium.
Assist with monthly e-newsletter.
Help with design for the 2021 Annual Report & 2023-2027 Iowa Cancer Plan.
Work with Consortium staff to develop additional contract deliverables based on contractor input and interest and community needs.
Maintain honest, constructive, open, and consistent communication with Consortium teammates.
Comply with Consortium bylaws, policies, and procedures.
Qualifications
Required:
Excellent written communication skills, including editing, and ability to present to diverse audiences, specifically racially, ethnically, and socioeconomically diverse communities.
Demonstrated understanding of and commitment to addressing issues of equity, institutional and structural racism, bias, and social determinants and their impact on health in underserved and underrepresented communities.
Demonstrated graphic design skills.
Social media management knowledge.
Comfortable with Asana, Canva, Gmail, Word, Zoom, and similar programs (Adobe Creative Cloud experience a plus).
Desirable:
Experience within the cancer control field.
WordPress experience.
Email marketing software experience (Wild Apricot knowledge a plus).
To Apply
All applicants: Please submit a resume and letter describing interest and qualifications to [email protected] by 5:00 p.m. CST on September 27, 2021.
Organizational applicants:
An individual must be designated for the Communications Contractor position – the role may not be filled by multiple individuals. Please submit the resume of the designated individual with your letter.
In addition to addressing interest and qualifications, please address the following within your letter:

How the pay structure within your organization aligns with the compensation offered in this opportunity.
Availability of organizational leaders, supervisors, and other key players to meet with the selection committee on behalf of the application during the selection process.
If and how the Communications Contractor position will be combined with another role in your organization.
Questions
Please direct questions to Rachel Schramm at [email protected] or 319-335-8144.
Thank you!