Pancreatic Cancer Survivor Mike Zeglin on Finding Joy and Connection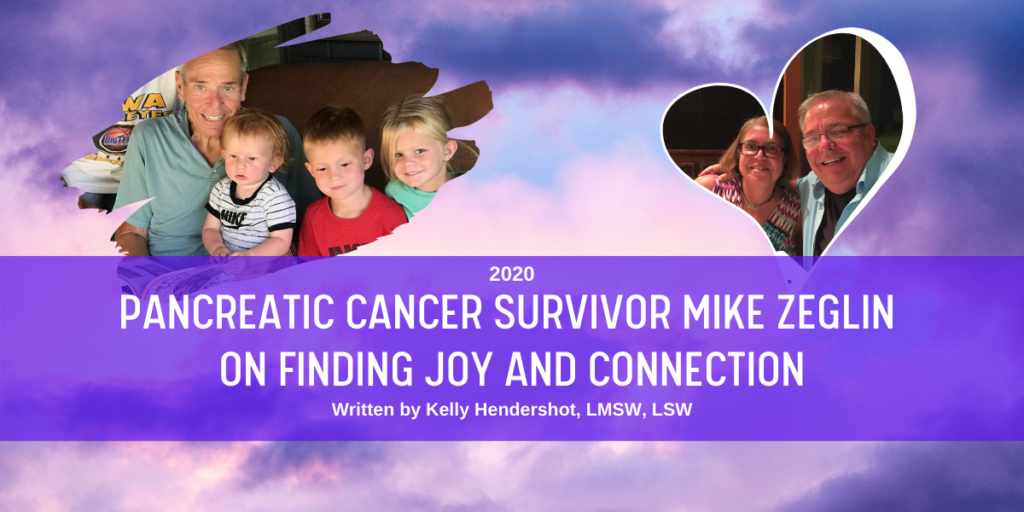 By: Kelly Hendershot, LMSW, LSW
"Pancreatic cancer is an ugly cancer," said Mike Zeglin, a 68-year-old man from Rock Island, Ill. "I tell myself it's tolerable and not so bad, but I lie to myself a little bit."
Doctors first diagnosed Mike with stage b (meaning it had already spread to nearby lymph nodes) pancreatic adenocarcinoma on September 26th, 2017. Then, his doctors acted quickly. Consequently, Mike had a combination of daily radiation and chemotherapy in February and March of 2018. Mike stayed at the American Cancer Society's Hope Lodge during this time, waiting for the tumor to shrink. Finally, on May 8, 2018, Mike underwent a Whipple procedure.
According to the Pancreatic Cancer Action Network (PanCAN), "Surgery to remove a tumor offers the best chance for long-term control of all pancreatic cancer types." Also known as a pancreaticoduodenectomy, the procedure "removes and reconstructs a large part of the gastrointestinal tract and is a difficult and complex operation."
About Pancreatic Cancer
November happens to be Pancreatic Cancer Awareness Month. So let's take a quick pause on Mike's story to discuss this particular type of cancer more.
According to the American Cancer Society (ACS), pancreatic adenocarcinoma accounts for 95% of pancreatic cancers. ACS estimates that 57,600 people (30,400 men and 27,200 women) will be diagnosed with pancreatic cancer in 2020. Furthermore, ACS estimates about 47,050 people (24,640 men and 22,410 women) will die of pancreatic cancer this year. The organization goes on to explain that 3% of all cancers in the US and about 7% of all cancer deaths, pancreatic cancer is the third deadliest cancer in the country – falling behind lung and colorectal cancer.
Per the Cancer Support Community (CSC), pancreatic cancer is known as the "silent disease because its symptoms often go undetected until the disease has already advanced." Symptoms may include blood clots, diabetes, digestive abnormalities, jaundice, pain, a swollen gallbladder and weight loss.
Praying for Lung Cancer
May 8, 2020 marked the two-year anniversary since Mike's Whipple procedure.
"I just knew (reaching that milestone) was a big deal," Mike said. "As a family we were jumping for joy and I felt great."
Of course, social distancing precautions introduced just months prior with the outbreak of the coronavirus pandemic meant minimized celebrations.
Initially scheduled for May 6, 2020, the pandemic delayed Mike's follow-up scans until June. As a result of the scans, doctors were concerned about elevated carbohydrate antigen (CA) 19-9* levels and about a mass in his lungs. Doctors told Mike to pray the mass indicated lung cancer rather than metastasis, he recalled.
"It was frustrating, of course," Mike said.
Mike found himself preparing for surgery to remove and biopsy the mass in his lung.
The world had become a much different place since the initial biopsy two years prior. As a result from the pandemic, cancer centers had just begun conducting "elective"surgery seeing many of their patients in person again in June. The American Cancer Society's Hope Lodge had also been forced to suspend operations due to the pandemic.
"How I got in right away and had that lung surgery, God knows," Mike reflected of the timing.
But it wasn't lung cancer. The pancreatic cancer had, in fact, spread to his lungs.
Connecting with Others
As a result of the metastasis, Mike began more chemo. He admitted the chemo was more difficult this time around and that going to treatment was scary due to the risk of COVID-19 exposure.
While Mike didn't expect to be going through more treatment two years after his Whipple procedure, Mike was able to find joy and appreciate connection to loved ones more.
For instance, "Feeling the love of other people is what fuels our spirts," Mike claimed.
One place Mike found that fuel was behind the red doors at Gilda's Club Quad Cities in Davenport. Free of charge, Gilda's Club provides support, education and hope to all people affected by cancer.
"There's just something about being with people who've also been through it. That's for sure," Mike explained.
Mike joined Gilda's Club in 2018. He's participated in support groups, educational lectures, social activities and even yoga and meditation there.
"I couldn't imagine being in treatment without anyone to bounce things off of and share with," Mike said of the support network he's gained through Gilda's Club. "It's not quite the same as it once was," Mike said of the organizations shift to a virtual community as the world navigated the pandemic, "but I'm happy to have something.
Finding Joy
Mike's greatest source of joy was in his two grandsons and granddaughter.
The smile could almost be heard through the phone as Mike said, "They bring me great joy." He added, "I cannot let this pandemic rob me of the love of my grand-babies." He needed to feel the love of his family in order to mentally get through the first five treatments the second time around, "and I knew it was a little bit risky."
Another place Mike found joy was in Florida. Mike spent four or five months in the state, despite the pandemic, to focus on his quality of life.
As Mike explained, "I decided I wanted to take a break. I wanted to forget about cancer. I felt like I couldn't take any more."
On his hiatus from cancer, Mike spent his time kayaking, fishing and dancing. The warm weather also helped ease neuropathy pain.
"You have to have something to find joy in," Mike concluded.
When asked what he was most looking forward to when social distancing precautions loosen, Mike immediately responded, "Hugging. Hugging, touching, being around people I love… Just regular activities that bring me joy."
---
*As stated on the Pancreatic Cancer Action Network (PanCAN)'s website, "not every patient with pancreatic cancer will have a high CA 19-9 level" and "some conditions other than cancer can cause high CA 19-9 levels".