Living Proof Exhibit is "Getting the Arts in the Hands of People Who Need It"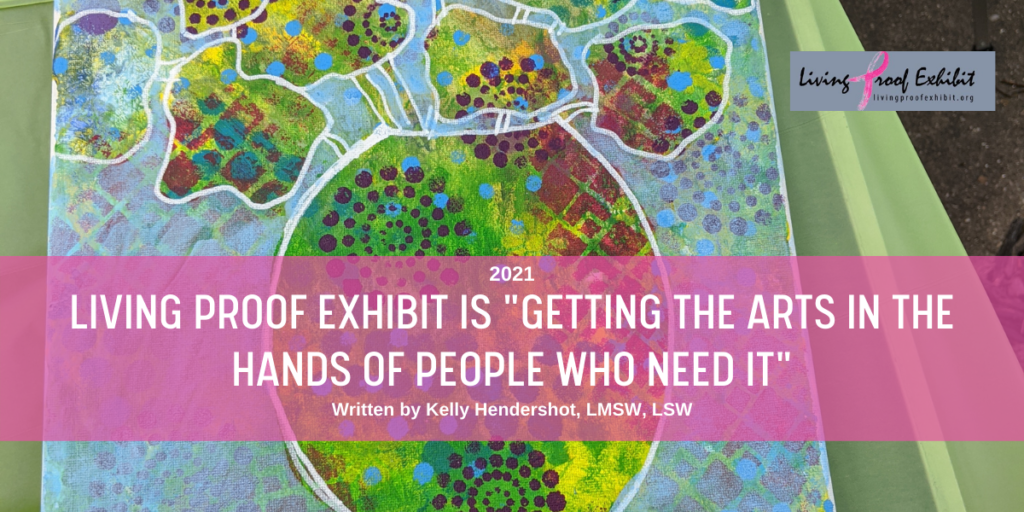 By: Kelly Hendershot, LMSW, LSW
Art-to-Go boxes are a hallmark of Living Proof Exhibit  — more about this fabulous organization in a moment — that pre-date the pandemic, but they certainly offered a new appeal starting in March 2020.
Due to increased feelings of loneliness and isolation caused by COVID-19, the boxes helped reduce stress.
According to Living Proof Exhibit co-founder and Executive Director Pamela Crouch, Art-to-Go was a way of "getting the arts in the hands of people who need it."
The boxes appear pretty simple. Each contains watercolor pencils, a brush, and artwork to paint. Yet they contain so much more than this. They offer connection between the sender and the recipient. They offer an escape for those paralyzed by anxiety. And they can even make the most self-proclaimed "uncreative" type feel talented.
The Iowa Cancer Consortium happily provided funding to allow a limited number of Art-to-Go boxes to be shipped at no charge to anyone living with cancer in Iowa. Just visit https://www.livingproofexhibit.org/art-to-go-boxes to place your order.
Okay, but who/what is Living Proof Exhibit?
Living Proof Exhibit is the brainchild of Pamela Crouch and Mary Ellen Cunningham. The two women hit it off in March 2010 while attending a breast cancer support group. Realizing they both used art as therapy, they decided to share their passion. Living Proof Exhibit had its first exhibition of cancer survivor artwork in October that same year in Davenport and received 501(c)3 status in 2015.
Pamela, a now four-time cancer survivor, believes that "you don't have to control something for  it to be okay."
And, boy, doesn't that sense of not being in control just resonate when your life is impacted by cancer?
The organization hosts what it calls Creative Sessions at a number of locations each month in the Quad Cities. These sessions are free of charge to those impacted by cancer. Living Proof Exhibit partners with local artists from the community, who are compensated for their time and talent, to provide these therapeutic outlets to those in need. To cover the cost of supplies and provide artists with a stipend, Living Proof Exhibit accepts donations, seeks grant funding, and holds fundraising events that feature the work of their participants.
But let's be clear about one thing: these are decidedly not art classes.
"We teach you and art medium," explained Pamela. "And the medium helps reduce the stress of a cancer diagnosis."
Since not everyone may appreciate the same medium, Creative Sessions cover a variety of options. These include, but are not limited to, paper making, bilingual interactive song, acrylic painting, polymer clay pendants  and mala bracelets.
Creative Sessions Go Virtual
Like so many other organizations in early 2020, Living Proof Exhibit needed to adapt to the pandemic.
"It was a steep learning curve," Pamela recalled. "But it gave us so many opportunities."
They partnered with Gilda's Club Quad Cities on to provide virtual Creative Sessions at a time when many didn't fully understand what Zoom was, much less how vital to connection the platform would soon become. The safety of participants and instructors alike was an important factor in the decision to move online. Ideas for the last year's sessions utilized supplies that most participants would have at home, such as creating flowers from toilet paper rolls.
Now, Creative Sessions at Gilda's Club have evolved to hybrid classes. A limited number of participants may RSVP to attend in a socially distanced environment.  While others may join from the comfort of their homes.
"We are committed to being hybrid from now on," Pamela said proudly.
Also, in response to the pandemic, Living Proof Exhibit created a YouTube channel to house their new virtual content. Now, even if participants are unable to attend classes in person, they can still benefit from the therapeutic benefits of the arts at home.
Sadly, the pandemic also meant a pause to virtual tours of the Figge Art Museum for patients receiving treatment at the Genesis Cancer Center. So Living Proof Exhibit created a bookmark with a QR code on it that patients can use to access the organization's virtual programming on YouTube as well as programming from the Figge, the Quad City Botanical Center, and the Quad City Symphony Orchestra.
Living Proof Exhibit is booked already for 2021 but will be putting additional focus on diversity in 2022.
"When you reach into a community," Pamela said, "artists from that community needs to lead the sessions."