FY2021 Grants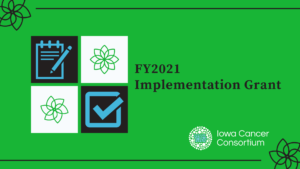 Want to collaborate to reduce the burden of cancer?
The Iowa Cancer Consortium's Board of Directors will soon resume soliciting project proposals that support the 2018-2022 Iowa Cancer Plan. The intent of the Invitation for Proposals (IFP) is to fund collaborative projects that address identified gaps in Iowa's cancer and prevention efforts. This unique funding opportunity supports both single-year and multi-year projects.
Applicants must submit a simple letter of intent (LOI) to Rachel Schramm at [email protected].
Note: Applicants are encouraged, but not required, to join the Iowa Cancer Consortium as a member.
IFP Process Update
First, we want to extend a sincere thank you to our members and partners for their patience as our organization navigates the unknowns of COVID-19 and its impact on cancer.
Secondly, we want to provide our membership with an update about the status of the FY21 Invitation for Proposal (IFP) process.
What we Know: Funding Priorities & Community Commitment
Our board and staff remain committed to the IFP process and providing support for cancer control activities during this busy time in public health.
Our team is working to streamline and modify the existing IFP process and have received the following funding priority areas from the board:
Programs or projects providing support for those who bear the burden of both cancer and COVID-19.
Programs or projects that address issues of inequity.
Programs or projects that find ways to creatively deliver cancer services and care within the new landscape created by COVID-19.
Grant projects from the current fiscal year (FY20) who graciously released funds for the COVID-19 response effort.
The Unknown: Overall Community Grant Funding
As many of you know, the Iowa Cancer Consortium depends on a mix of state and federal funding to complete our work, including staffing and the funding that we use to create the annual IFP process.
The Iowa Legislature was set to convene on June 3, to wrap-up their session and finalize a budget for FY21. As such, we do not have any funding projections at this time, and are preparing for a variety of funding scenarios. However, the organization fully intends to offer IFPs this year, even if that means offering funding in smaller amounts.
Stay tuned!
Again, thank you for your patience as the situation evolves. We will provide additional details to our membership as soon as possible. If you have any questions, please contact our Executive Director, Kelly Sittig.